Refrigerators are something just about all of us have in our homes and they come in various different designs, size and colour configurations. But we have noticed that this particular kitchen appliance has become quite popular when retro-styled and here we take a look at a truly classic offering from Bauer Haüs. Known as the 'Undercounter' Double Door Retro Fridge Freezer (Model: BH48907CRE).
Design
The retro design of this fridge/freezer is self-evident, but it must be said that, along with the looks, it has a solid well-built 'feel' too. The handles are large and invite you to use them, and together with the chrome trims across the two doors, there is a feeling of built-in reliability. Unlike most fridges of this so-called 'undercounter' size, there are two doors: a smaller but significant top freezer door and a larger fridge door below. Ours is in a very pleasing cream colour, but there are also black, red and white variations available.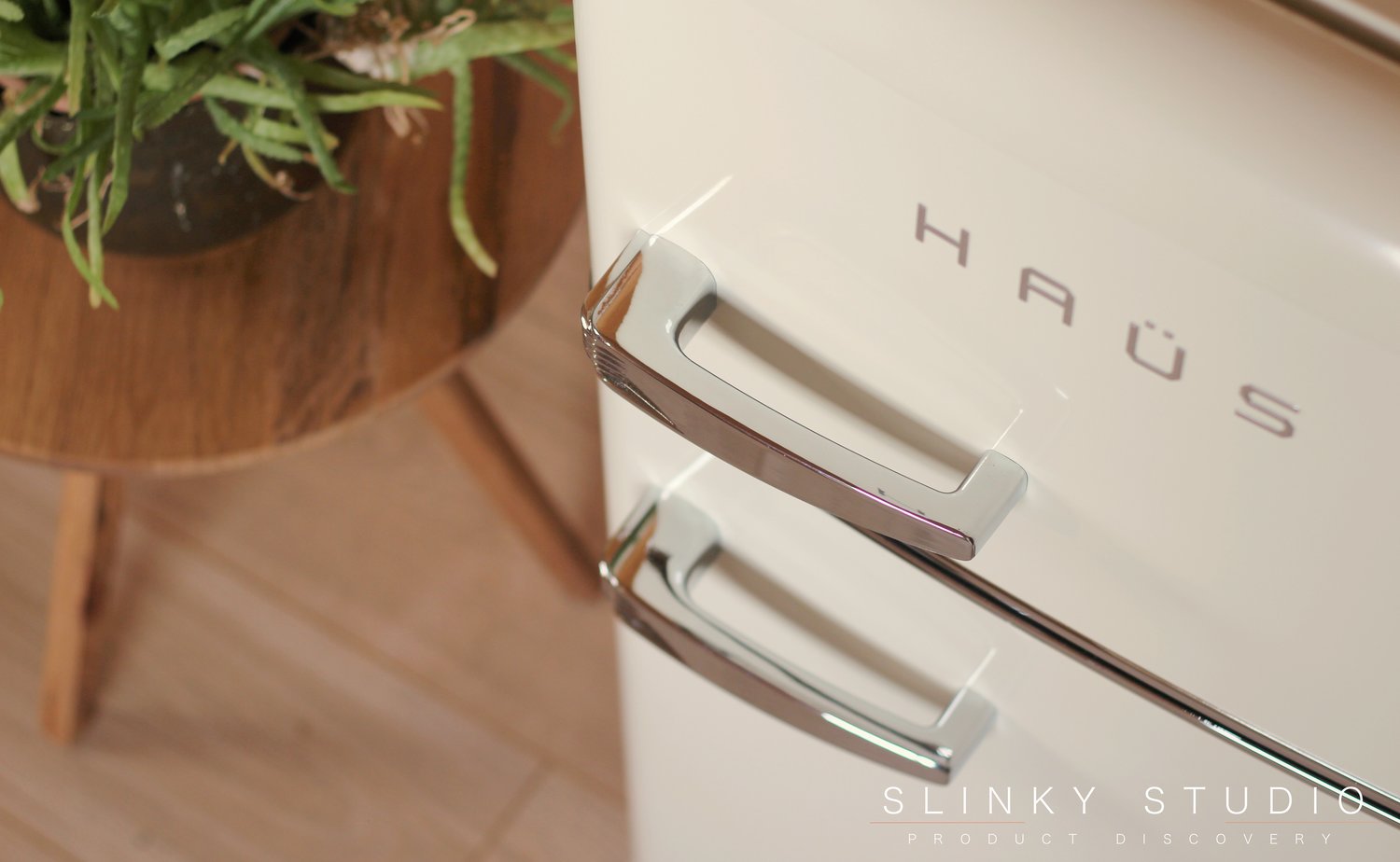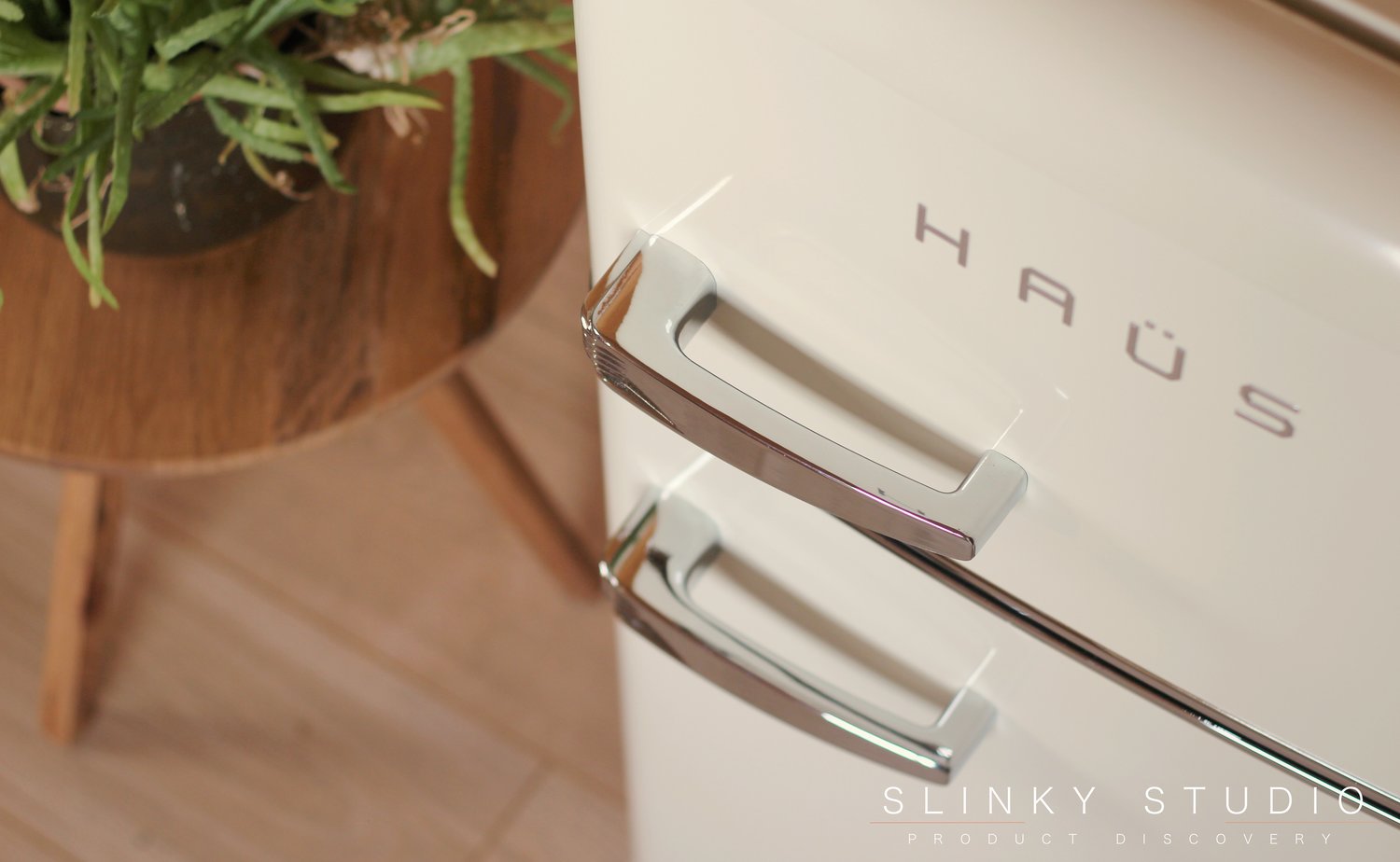 A word about the Dimensions
The overall dimensions of this Bauer Haüs fridge/freezer are 480mm width, 545mm depth and 907mm height. The front feet can be adjusted for levelling, but the back feet are actually fixed rollers, which make the appliance very easy to move. This means the height is fixed and it certainly does not fit under the work surface of our standard kitchen. You should bear this is mind and check against the height of your own worktop if you want to position the fridge/freezer under it. However, we are very happy using it as a stand alone appliance, and the top is actually suitably shaped to look good and be of some use in itself.
The Fridge
We really like the fridge compartment with its two removable real glass shelves and an 80 litre capacity, all lit by a good internal light. It has a deep salad crisper and two transparent door racks. There is also an egg tray included. The adjustable thermostat is simple to use and read, with the standard setting being around 2-4, although it can be increased up to 7. Being glass, the shelves are easy to clean and help keep things cool, whilst the internal white plastic walls are well constructed and also easily cleaned. Notably it's a very low noise fridge, gently humming when active and most of the time is absolutely silent.
The Freezer
Probably the most impressive part of this classic-look Bauer Haüs fridge/freezer is that the freezer is a fully 4-star rated affair, which is very unusual for this size of refrigerator. It has a good-sized 24 litre capacity which will take a substantial amount of frozen food items, including the taller ice-cream containers. It is much better than the small freezer compartment built in to most smaller sized fridge/freezers and has the great advantage that, because it is entirely separate with its own external door, you are not allowing warm air around it every time you open the fridge door.
Defrosting
The fridge compartment is defrosted automatically, with the water running to a container where it evaporates. However, the freezer must be defrosted by turning the appliance off and physically removing the ice as it melts. Because it is a real 4-star freezer this is not something which should need doing every week, but depending on your use it will need to be done from time to time when the ice builds up too thickly within it.
Overall
This retro-styled fridge/freezer from Bauer Haüs, at a recommended price of £219.00, is a well-built appliance that oozes a truly classic look. As well as its looks we also like the inside finish and fittings, particularly the glass shelves, and the fact that it includes a genuine freezer space.