You're better off asking what the £689 Hotpoint Class 9 oven hasn't got, rather than what it has. Hotpoint reached for their option list of what a dream oven would be equipped with and created this Class 9 SI9 891 SP IX Oven with pyrolytic cleaning, A+ energy rating, touch controls, genuine grill, automatic recipes, Multi-Flow technology, inbuilt heat probe facility, rotisserie and generous 73 litre capacity. But is it a bloated package that's just too busy for operation in your kitchen or does it boast an advanced useful package that we or even Jamie Oliver - the face of the oven - can now not live without?
Design
Since this oven arrived at the studio and was installed in our shaker styled kitchen we've been paying close attention to other models we see in homes and kitchen showrooms. It's pretty safe to say none exhibit the elegance and simplicity of design that Hotpoint have struck with their Class 9 line-up. It's a cut above the best in class Miele and Neff designs. With its accented silver handle panel set against an otherwise all glass front, thanks to an entirely touch based control interface, it's downright brilliant and produces a unified undistracted design that deserves centrepiece display in our kitchen.
Pulling down on the smooth, yet notably well constructed, door mechanism, which has soft closing on the way back up, presents a large 73 litre total capacity oven space, with five independent runners, all identified with large numbers on the left side. The only criticism we have is the lighting - whilst excellent for the highest tray level or when cooking just one item, it's left fairly redundant when multiple lower trays are in use as they obstruct the rear light placement. This is a common criticism on so many ovens, but on such a premium oven option it would have been nice to see this reimagined and solved so everything that's cooking is easily visible.
Also included with the oven is a grill with the pan set, a set of sliding runners that can be used on any shelf level and the necessary accessories for turnspit roasting. None are wider than the oven itself, so will neatly store away in a 600mm cabinet.
See-ya buttons, hello touch panel
Buttons, dials and knobs are vanishing from products that come our way at an ever increasing rate. We're all for it, if what has replaced them is just as quick to utilise on a like for like functionality basis. Hotpoint clearly got the memo and have designed what is an attractive interface with quick witted touch controls and legible graphics to give immediate reference to functions. This makes jumping through options less habitual over time and more immediately obvious on the first boot. Adjusting duration and temperature on any selected mode, where applicable, is straightforward and the display shows the end time as well as a countdown. There are little interface pieces that we appreciate, like when we hold down on an arrow button to adjust a time or temperature and it increases at a faster pace so it's not a laborious task, and the pre-warning that the cooking time is nearly completed.
The main menu consists of automatic roasting via the heat probe, traditional manual functions for temperature and time and a 'specials' function which showcases an eco-mode, a defrosting function, a mode for cooking a list of different frozen meal options, slow cooking, proving doughs and keeping food warm. The grill option also includes a turbo mode. But it was the fully automatic recipe feature that gained the most attention at the studio, using pre-configured times and temperatures that we assume adjust throughout the cooking cycle for advertised fuss-free optimum results (we test this later). This boasts being able to bake desserts like cheese or marble cakes, fruit tarts or strudels. With savoury options there's items listed such as crepes gratin, lasagna, vegetable strudel, tomato gratin, roast potatoes, stuffed peppers, 2 pan pizzas and quiche Lorraine. Altogether there are 28 automatic recipe options to choose from.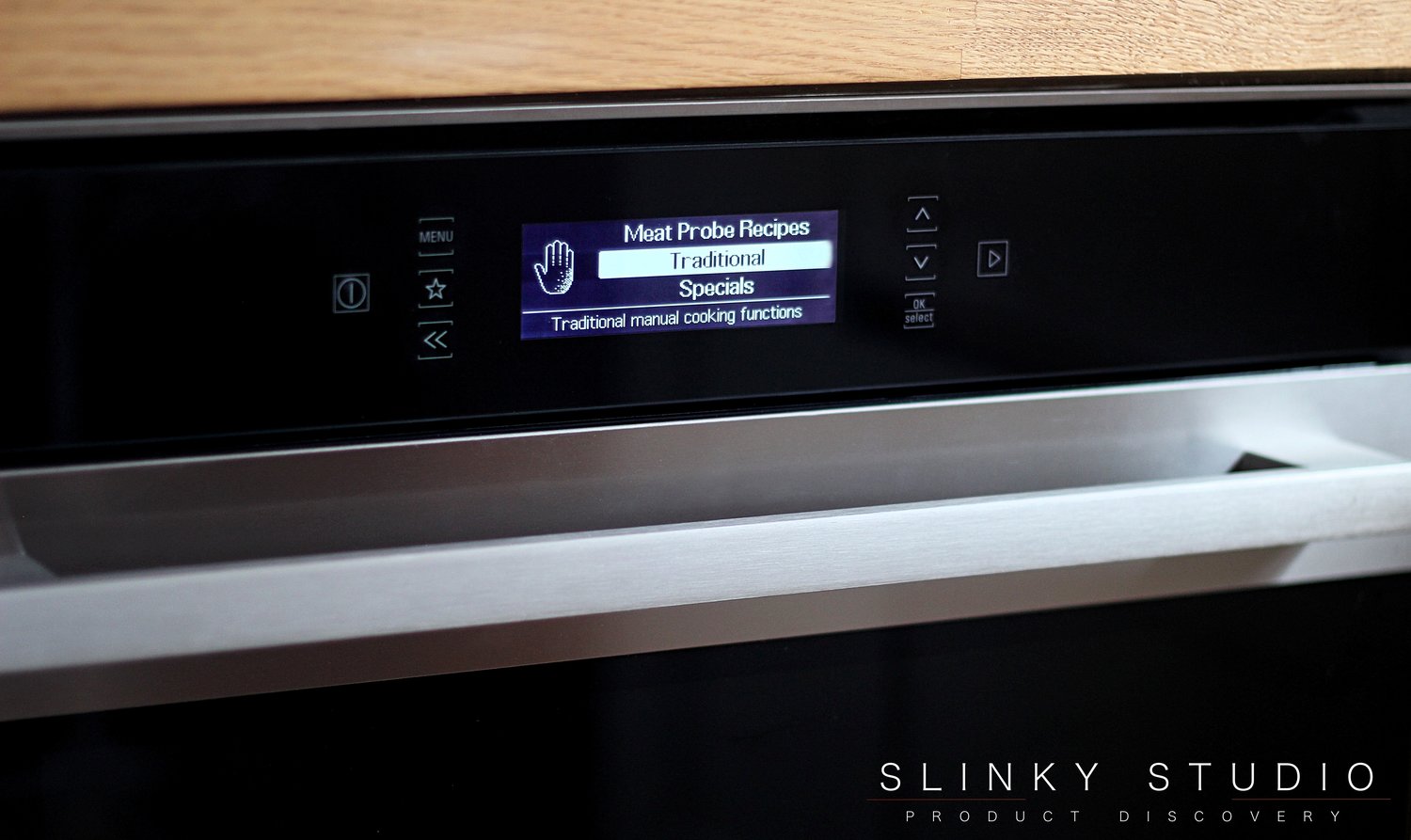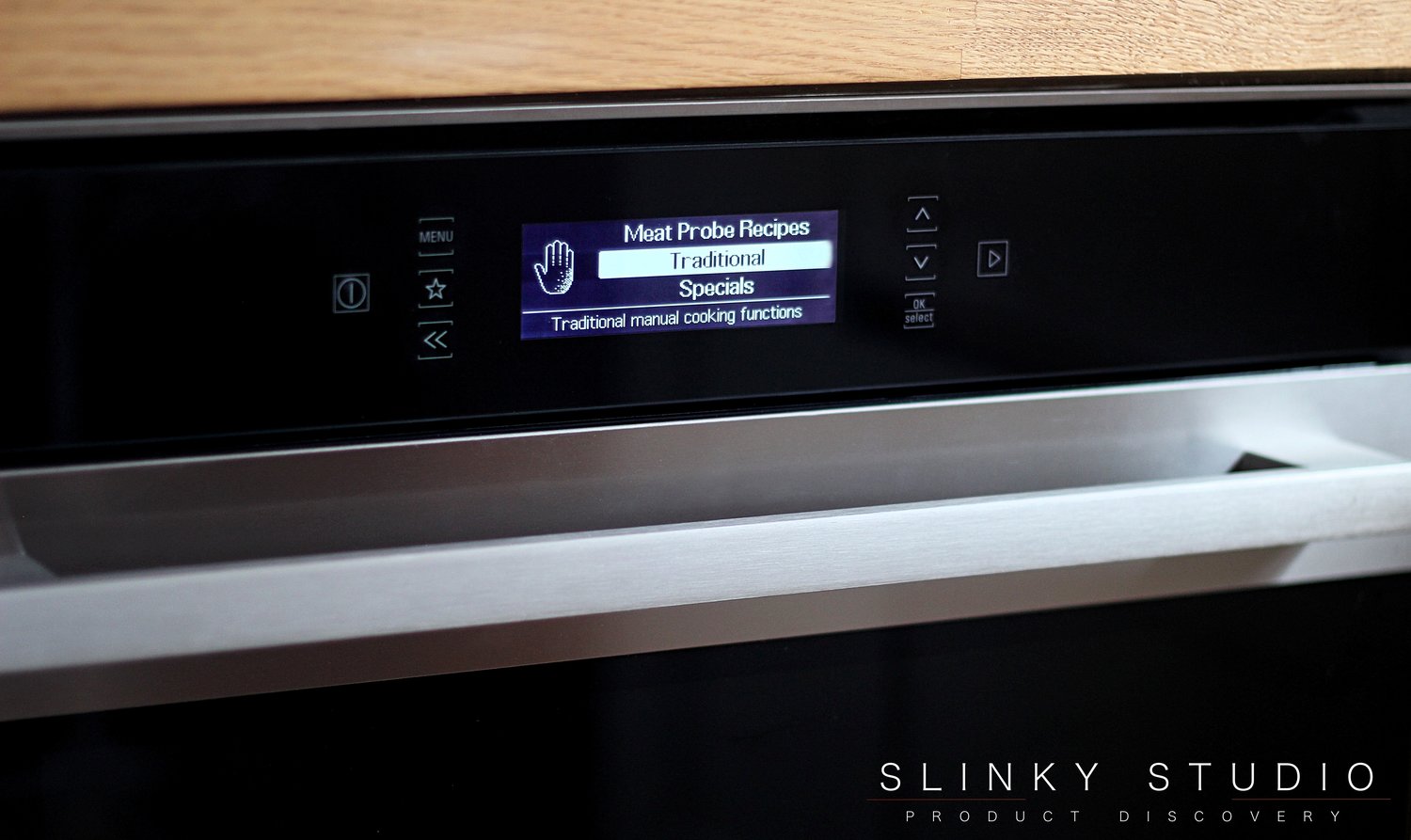 Cleaning
This Hotpoint oven features pyrolytic self cleaning, so we don't ever need to get on our hands and knees to use cleaning products. In case you aren't aware of how pyrolytic works, the oven is heated up to 500°C, and this process burns off the stuck-on grease and fat that will subsequently turn into ash to be wiped away or sucked up. There's a choice of two modes and with either you won't want to hang around waiting for them to finish. Pyro Express cleans the oven for 75 minutes and regular Pyro mode requires 2 hours.
Let's cook
Due to the time of year, the selection of catering produced from our Hotpoint oven might be a tad seasonal, but they're all still applicable tests to see how well and far the capabilities of this oven will go. Most notably the Multi-Flow Technology has been well and truly scrutinised. Claimed to be a 'new style of convection system' by Hotpoint, it basically promises even heat distribution on every level.
Carrot & Orange Loaf Cake: Tray bakes, whilst seemingly straightforward, can have complications. The main one being the top turning too brown or potentially burning before the inside is baked through in the tin. However, using the convection bake mode for 95 minutes, we didn't need to rush for the tin foil near the end. Worth noting is that the Hotpoint Class 9 SI9 891 SP IX Oven won't allow the temperature to swing more than 2°C from the target set. When the timer stopped, we pulled out a gorgeously tangy loaf cake, with its moist character perfectly preserved, but most importantly the top was remarkably even and had the desired outer crust.
Clementine Spiced Sugar Cookies: Here we were able to trial the speed and consistency of the bake on multiple shelves. We placed two trays of 12 cookies in the oven, one at the top and the other at the bottom, on separate runners, and left to bake for 6 minutes at 190°C. To our delight both batches were identical, demonstrating the effectiveness of Hotpoint's Multi-Flow system that has proved indispensable for speeding up batch bakes like this one.
Vegetarian Mediterranean Pasta Bake: A great example of the automatic recipe functionality. Firstly, we were looking for the juices of the roasted vegetables to turn into a sauce-like consistency, which is generally achieved using a lower temperature, so we were intrigued to see if this would occur in the auto recipe process. Secondly, our cheese topping, with black pepper and herbs, had to be golden. After selecting the on-screen mode it just says it's getting on with the cooking and doesn't relay temperature info or allow adjustment of the duration time - so it's fairly self assured. When we first started to use the automatic recipe mode it felt unnerving, but the process proved reliable and absolutely earned our trust. We can simply walk away from the oven and leave it to deal with fairly complicated bakes like this one; turning the liquids saucy, with an even bake, and finally producing that all important golden cheese topping.
Cob Bread Loaves: The Class 9 oven has a rising mode for doughs which uses an optimum 40˚C temperature for an hour. As this is the time-frame we normally typically use to rise our dough we thought this would be fine, but our two cobs became larger than normally anticipated with our usual rising technique, which slightly worried us at first for any possibility of deflation occurring before the bake. However, after baking the cobs together on one shelf at 190°C, we had two prime loaves, with both the front and back loaves being identically baked. These had an evident crust and a fluffy consistent interior that we could simply not fault when compared to previous favourites that have emerged from our AGA.
Verdict
The Hotpoint Class 9 SI9 891 SP IX Oven combines fluid design with cutting edge responsive functionality via its touch screen interface that anyone who enjoys baking or preparing meals will truly love. The auto recipe features genuinely take all the effort out of setting timers and adjusting temperatures, for results that equal, if not exceed, what we would do manually. It's also an oven that makes turning trays around for even results, or feeling restricted by tray placement, a thing of the past, thanks to the Multi-Flow technology that has shown throughout our testing to provide faultless results across all our bakes, desserts and general cooking.