We've reviewed quite a number of appliances to make juice and have to conclude that the cold press slow juicers have the un-toppled definitive juicing design. These produce tasty, high yield results and they're also far easier to clean in haste. The Optimum 700 Advanced, as the name would suggest, goes beyond being just a juicer and ventures into making smoothies, sorbets and tofu - all thanks to three interchangeable filters and some creative accessories. But is it a master of all its ambition?
Design
This vertical slow juicer design is becoming quite ubiquitous within the industry. The warmly received Retro Cold Press Juicer, reviewed last year, looks very similar in shaping and placement of the spout and pulp extraction points, but the Optimum 700 Advanced promotes a more substantial build with stainless-steel exterior trim (red, silver, gold & black available) and a few useful extra features that are not included with the Retro Cold Press. One of these useful features is that the main container of the body that collects the juice has clearly printed millilitre measurements and both of the supplied jugs do, too. It can also tuck underneath a worktop - thanks to the fruit chute being detachable. All plastics are BPA-free tritan, a supposed higher quality plastic, and we have to say the components feel exceptionally solid. All parts are guaranteed for five years and the motor has a lifetime warranty - definitely offering the most confidence in longevity when compared with any juicer we've previously reviewed.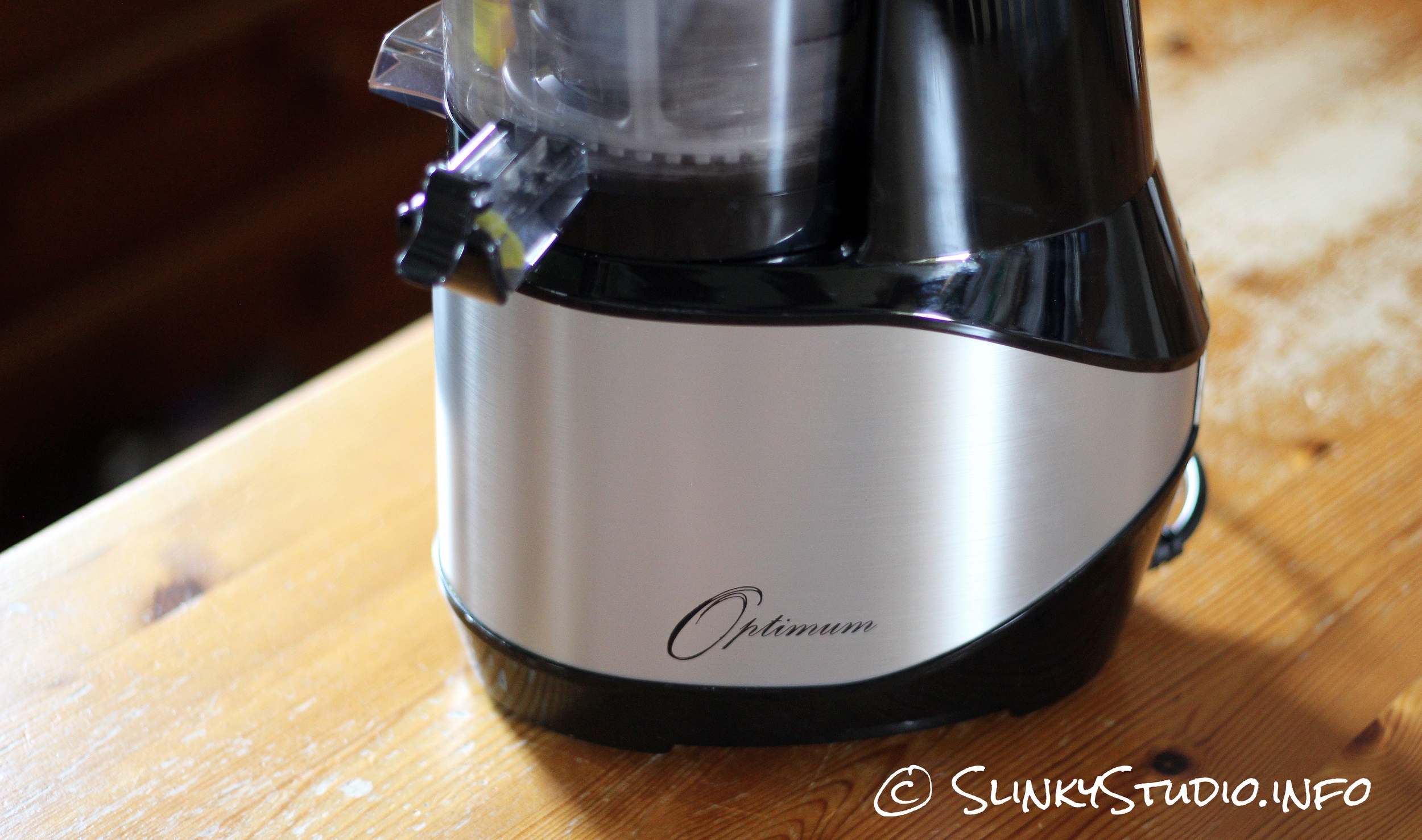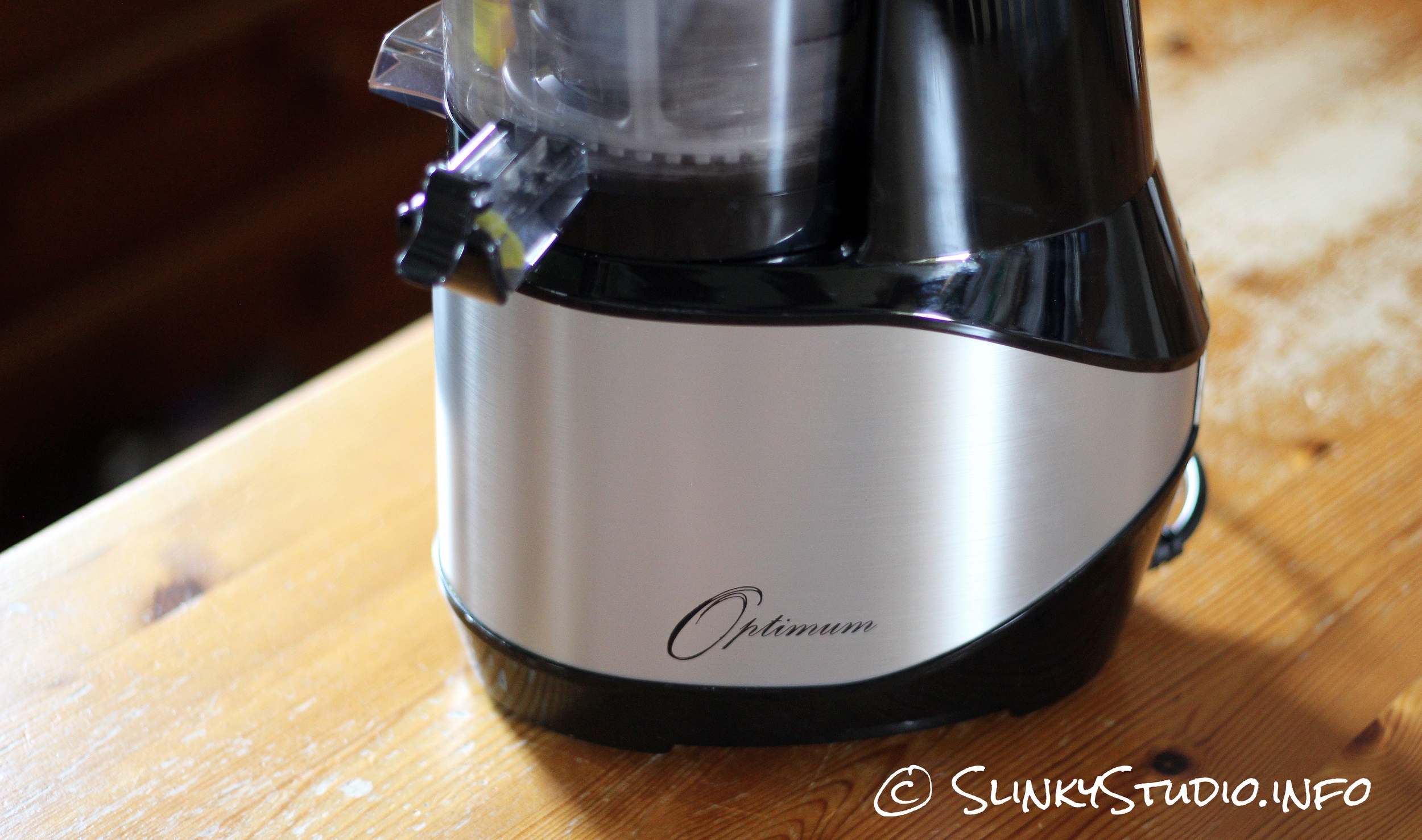 Ease of Use
In this area one of the standout features Optimum present is the two separate chutes. One is a wide 8cm chute with a door in which whole contents like apples can be placed, and the other is a traditional longer chute for narrower ingredients like celery and carrots. The benefit of this is that cutting fruit and veg to fit the chutes is generally unnecessary and the tamper is not often required because the juicer self feeds itself very effectively. Instead the tamper serves as a poking device to disturb trapped produce, and if something isn't being fed properly, a backwards switch usually assists as a last point of call.
Probably the biggest enhancement over any previous juicer we've reviewed is the inclusion of silicone scrapers within the main internal juice collection basket. They aid in keeping the basket clean and also encourage a fast flow of liquid dispensing from the drip-free spout. With the Retro Cold Press Juicer we have to tilt it to catch left behind juice at the bottom that won't pour out otherwise, something the Optimum doesn't require because of those silicone scrapers. As with most cold press slow juicers, the Optimum is very straightforward to assemble and dissemble: this is hugely important for equipping any of the three strainers - and cleaning too. When it comes to the latter task, we tend to leave all the components to soak if the juicer is left unused for a number of days or if it hasn't been cleaned following regular usage over a week. For general day-to-day cleaning we find a few jugfuls of water to rinse the system after every use keeps the 700 Advanced Juicer in good shape.
Performance & What You Can Make
Orange Juice: The first ingredient we always put through our juicers is the classic orange. Interestingly the Optimum 700 Advanced juicer has a slightly larger screw (the instrument that crushes produce) and is slower than the Retro Cold Press juicer by 25rpm, operating at 40rpm - but the speed of extraction is on-par with a centrifugal juicer. Throughout all our testing the unquestionably powerful 250 watt motor produced slighter higher yielding results than our previous best in class juicer, that being the Retro Cold Press Juicer. The quantity of orange pulp left behind (we always peel before juicing) from two oranges was less and also therefore drier. Because of this the orange juice produced has more bits, but importantly no pith, and we personally prefer this. However, if you prefer a smoother juice you can just use the supplied fine filter. On a side note, we frequently drink orange juice with a carrot added and the juicer extracts juice from hard produce of this nature with no bother at all.
Banana, Apple & Grape Smoothie: Bananas can't be juiced and so smoothies are the only viable option if you desire to drink this flexibly purposeful fruit. Centrifugal juicers, like the Novis Vita Juicer, do have the added ability of creating proper smoothies, albeit they become extremely warm due to the rapidity of the processing, so we were very unsure how well a slow juicer would fair. To its credit the Optimum 700 Advanced, with its smoothie strainer installed, can competently create creamy and, importantly, lump-free smoothies thanks to its sheer torque force - without any cutting of the ingredients. The recipe for this example included two bananas, a cup of grapes and one apple. What's very special about this process is the juicer removes the seeds and the branch from the apple; something that probably should be prepped when making a smoothie via the blender route, although in honesty too often we throw the entire fruit in.
Lemon, Ginger & Spinach Juice Shot: The tangy lemon (we use half a lemon) and fiery ginger are prominent direct flavours in this zingy morning pick-me-up. Strangely the savoury cup of spinach subtly makes the whole affair sweeter. Of course, this iron-rich substance is incredibly beneficial, and juicing it with other ingredients can often be the most agreeable way to consume it for many people. The Optimum had no trouble squeezing out the juice within the spinach as seen by the vibrant colour. Furthermore we were reassured that the juicer didn't have any qualms when it came to masticating the hard and large root ginger.
Apple & Pear Juice: From one medium sized pear and an apple we gained a full glass of sweet refreshing juice. In a head to head this juice was equally as smooth, with the corresponding juice strainer installed, as that extracted from the Retro Cold Press Juicer. Also worth mentioning is that if you keep your fruit stored in the fridge ice cubes aren't required, because the cold press method doesn't heat the juice like a centrifugal juicer or blender would.
Soya Milk & Tofu: Making soya milk was simple. We left soya beans to soak overnight and once ready entered them into the juicer along with the corresponding ratio of water. Milk was smooth and contained a limited amount of soya fibre from just one pass through the juicer, which satisfied us. This is definitely a quicker and hugely less messy way to make soya milk over the typical muslin cloth method. Subsequently we ventured into making tofu with the supplied tofu strainer. After heating the milk and then squeezing lemon juice into the mix. We had fresh tofu mix, ready to press the liquid out of and shape via the strainer. Results were all round tasty, the tofu was textured and soft. We fried it up and seasoned as shown by our photo, all in the space of 10 minutes from creating the milk.
Banana Sorbet: Frozen whole banana left in the freezer for two days is definitely the hardest task we've put this appliance through, and it didn't even stutter when squeezing out a creamy sorbet. Berries, kiwi, mango, pineapple and other fruits similarly lacking in or having no seeds are ideal for making sorbet. Whilst these can easily be processed through the Optimum 700 Advanced, combining with a a frozen banana adds texture, resembling authentic ice cream, and everything seems to go with banana in taste terms, too. Our example of banana sorbet, created with the blank strainer installed, is a studio favourite and further evidence of this juicer's ability.
Verdict
The £399 Optimum 700 Advanced Juicer makes the most of the cold press method to produce smoothies, sorbets and juice creations thanks to three easily interchangeable internal strainers. All the functionalities added to produce alternatives to simple juicing are not at all gimmicky and prove this process is qualified for other tasks. A few unique delights of the 700 Advanced are its two wide feeding chutes, which make pre-chopping fruit and vegetables a rare occurrence, the re-imagined dispensing design, easy cleaning, printed measurements and lifetime motor guarantee. Foremost though, the juicing abilities yield a marginally higher quantity than our previous best in class £325 Retro Cold Press Juicer, because of the Optimum's slower 40rpm processing speed and slightly larger screw. This creates juices with more fibre and therefore they're packed with more nutrients. Taste-wise there's nothing in it, so it's really down to whether you think the Optimum's £75 difference in price is reasonable for the additional functions.