Dishwashers are now an essential edition to any modern kitchen, but sometimes full size dishwashers have too much capacity for one or two people, or space is at a premium, so we are taking a look at the Hotpoint Slimline (SIUF 32120) Dishwasher from their Ultima range (RRP £340) to see how it performs.
Build Quality
The Hotpoint Ultima range of appliances are all well-matched and this Ultima Slimline Dishwasher has an easy to wipe down white painted finish, but can also be obtained in black or stainless steel. The slimline size is just 45cm in width, contrasting the typical dishwasher width of 60cm. Despite this there's still a roomy interior because Hotpoint have managed to use modern high spec material to make the sides thinner but still retain the A++ energy efficiency. The door is solid and balanced allowing it to open up and stay steady at any angle, which is useful if you just want to add a glass or cup to the top shelf, and the exterior control panel on the top of the door has button switches with an LED panel showing settings, times, etc. The interior build borrows all the character of larger Hotpoint dishwashers. The plate racks and baskets are all solid and durable, with both top and bottom racks running smoothly in and out when loading. One neat thing offered in this dishwasher is a combination of adjustable plate racks and baskets, with clever clipping systems that are strong and robust - so should last for years with daily use.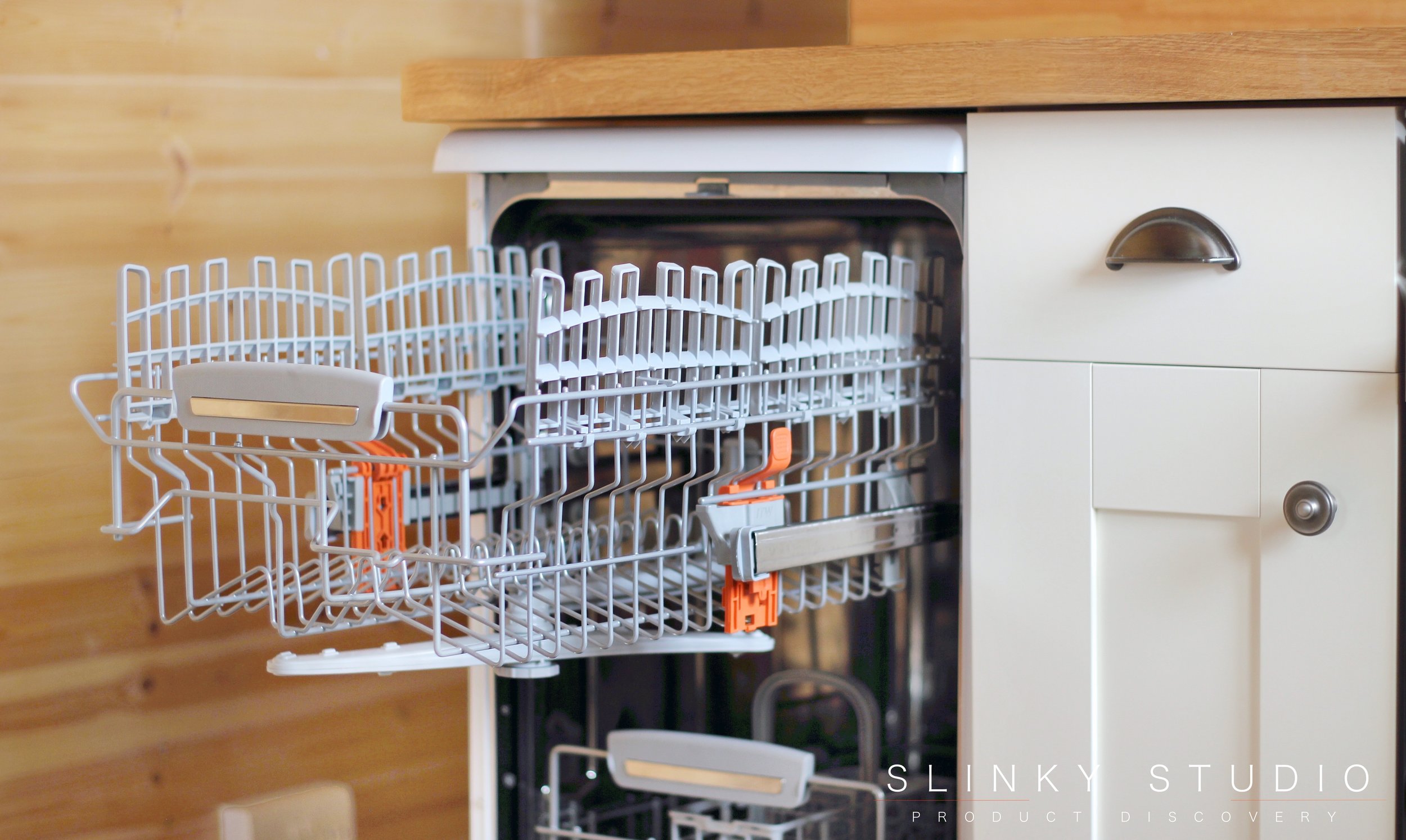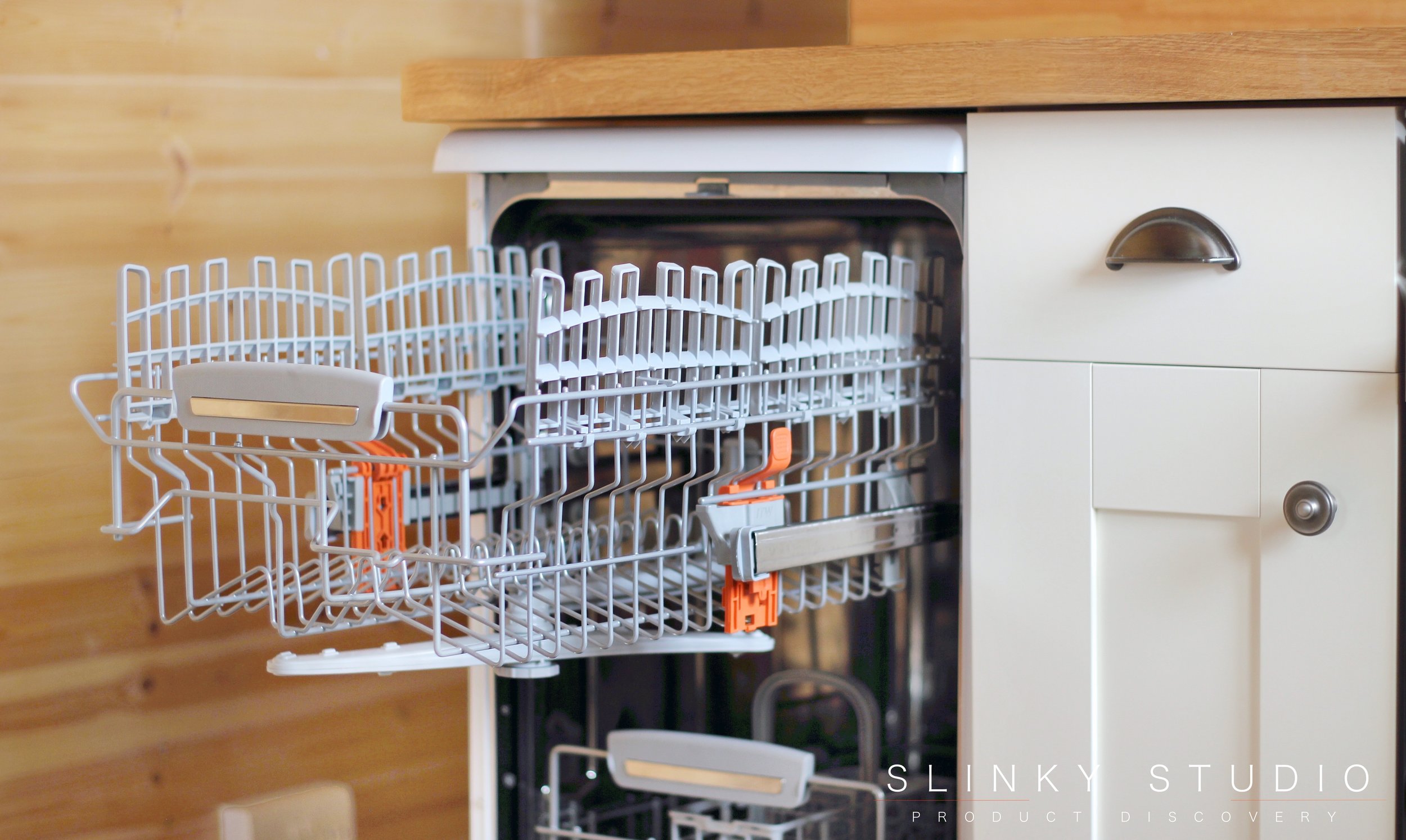 Set-up
As with all dishwashers, salt and rinse aid should be added before using for the first time and replenished as needed. Adding these to the Hotpoint Ultima Slimline dishwasher is simple and very clean to do.
Capacity and Loading
The publicised capacity for Hotpoint's Ultima Slimline Dishwasher is 10 place settings, which is obviously correct and the basis of how all dishwashers are measured, but how often do we add this specific combination to a dishwasher? We find that a day's worth of dishwashing normally adds up to many cups and glasses, a reasonable amount of cutlery and at least two plates per person. Add to this one or two saucepans and the necessity for some adjustment in the racks and baskets becomes very apparent. This is where we find the Hotpoint Ultima offers good choice, with folding racks that hold cups over the top of those already included within the large higher rack, and on the lower rack the choice of whether to have the plate holders up or fold them down for larger items. All in all this is an easy dishwasher to load with much better capacity than we'd normally associate with a slimline model - we just kept adding dishes and there was always a way to fit them in.
Controls and Functions
The controls are simple and intuitive to use with nine programme choices including a 25 minute express wash and a delayed start timer function. The LED panel informs you about the chosen setting, temperature and length of time, etc., and also counts down the time whilst in use. The display also has a beeping sound to accompany both setting and performance tasks. You can choose half load in all but the short washes and also choose whether using washing tablets or powder. The Ultima comes with some complimentary Fairy washing tablets to start you off.
In Use and Performance
We find the Ultima Slimline dishwasher to be quiet in use, peaking at 54dB and it is ideal for open plan living where ours is situated. The orange coloured LED readout about the progress of the wash is definitely a plus and something lacking on most slimline models. Dishes can be added whilst in the dishwasher is in use by simply pressing the pause button; then as soon as the door is closed it continues its cycle. Should you accidentally open the door without pressing pause, we discovered it pauses automatically anyway. Once the cycle has finished the dishwasher emits three beeps and displays 'End'. Again the functionality of its larger siblings has all been retained here as well.
On opening the door we find this dishwasher leaves clean and smear free dishes with Fairy tablets. We've been fully loading the washer with all our dirty cutlery and dishes to push it to the very limit. The performance is on par with the best of our full sized models. It doesn't leave grease or grime. Plus it boasts effective drying from the residual heat unless, of course, using the express mode, when dishes may well still be fairly damp. It has good ratings for energy and water consumption, with our understanding that the maximum water used on the standard 'auto normal' cycle is 9 litres - not at all bad for the environment and helpful to those on a water meter.
To Sum Up
The Hotpoint Ultima Slimline Dishwasher is just right for anyone needing to fit an efficient and stylish dishwasher into a smaller width space. Available from £252.00 (we advise you to shop around - sellers are shown on the Hotpoint website), it comes with the standard Hotpoint 1 year overall guarantee and 10 year guarantee on parts only. It really is a great little dishwasher that cleans brilliantly, and with an unexpected capacity for its size.