eBikes were once an invention allowing for a little assistance with pedalling, but have slowly matured into a product category for thrill-seekers. You see, the emergence of a bicycle motor with a lithium-ion battery means greater capacity and therefore mile range. However, you could choose by design to utilise this capacity for more speed and acceleration. One such company has exhibited just this philosophy: Cyclotricity have released a startling £1295 eBike, known as the Cyclotricity Stealth, with a 1000 watt motor. To put this into perspective, the legal on-road riding limit is 250 watts within the EU. We've had the bike in our possession for over a month and have been learning what this three-fold increase in power means for off-road riding.
Design
The Cyclotricity Stealth features an Alloy 6061 frame. This frame has an upper curve and rear minimalism in its design - producing a distinctive sporty shape that looks refined amongst the overall plethora of components; all of which share the quality we've become accustomed to from the previously reviewed Cyclotricity Revolver eBike. Assuredly the Stealth feels like a solid aluminium structure and is a pleasing shape that invites the rider to hop on board. In particular we really like the black on white colour scheme - albeit the white highlights the inevitable mud splashes a bit too well.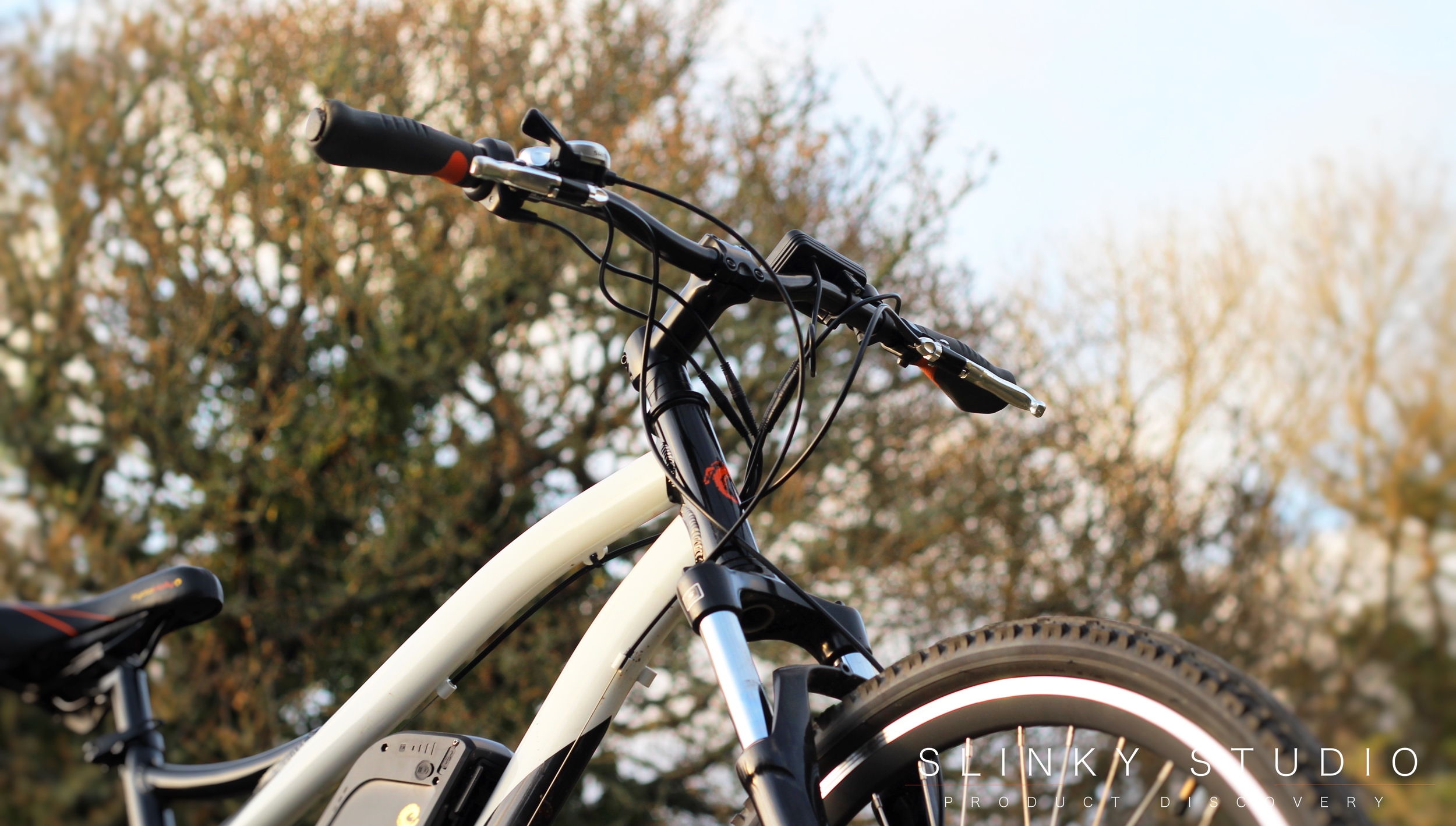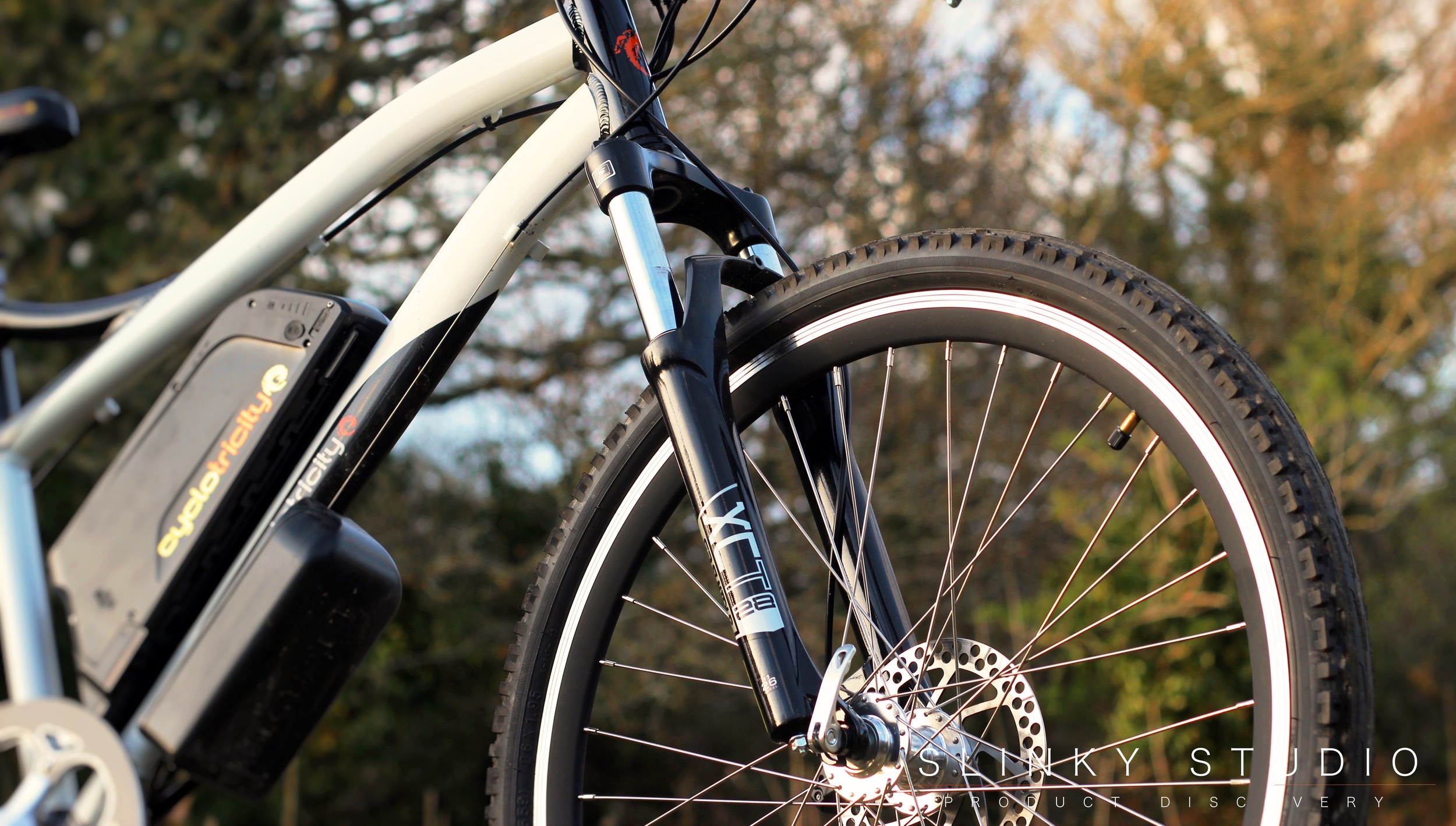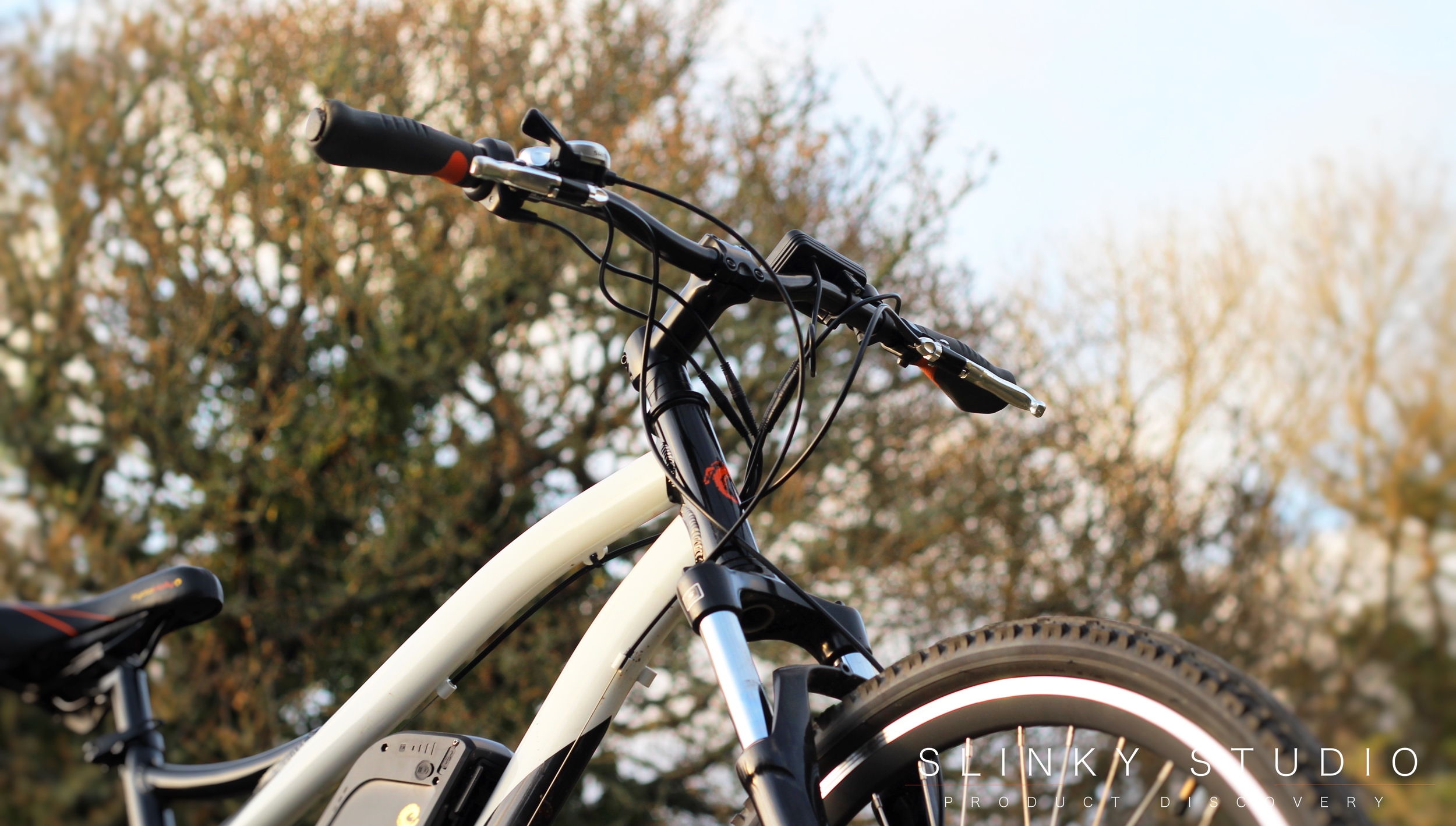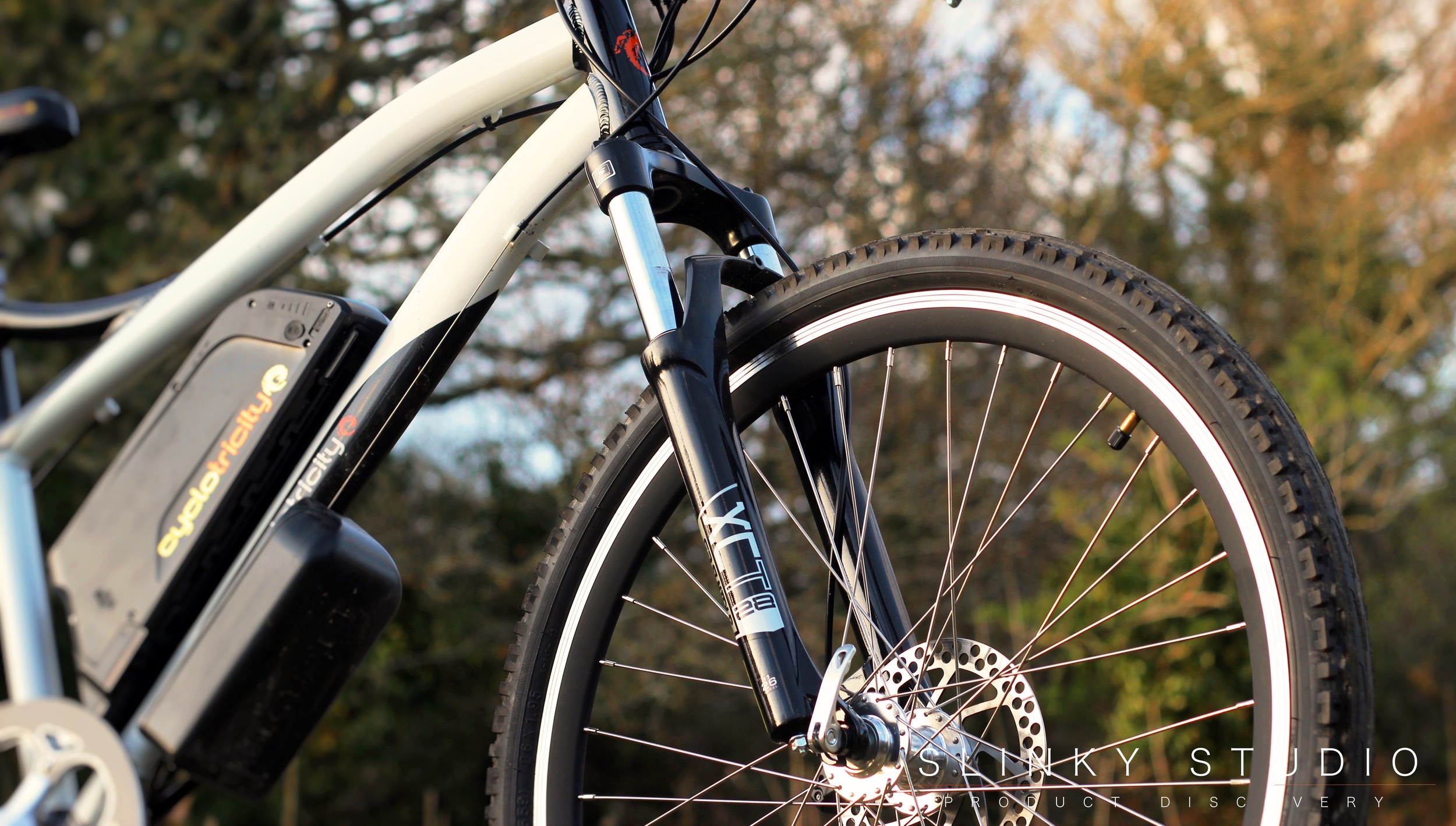 The similarities between the Stealth and the Cyclotricity Revolver are striking, with identical handlebars, PVC leather saddle and placement of the battery within the frame. Unfortunately the similarities don't correspond in weight terms, more power equals more weight from a larger motor within the rear wheel. In fact, the Stealth sports another 2kg more than the Revolver eBike, coming in at a total of 24kg. Pop the 48V/12Ah Lithium-ion battery off and you strip 4kg of weight to make carrying the bike upstairs or hefting onto bike racks a bit less strenuous: Nevertheless, it's still not a task for the fainthearted. Fortunately where the similarities between the two eBikes end is all rather positive too, with the Stealth having alloy disc brakes, what we believe to be more substantial 26" double walled Alloy rims, and a more dynamic on-paper front suspension setup with the SR Suntour Alloy system. A minor but well worth mentioning nicety of the Stealth is its quick release lock on the seat stem height adjustment - always easier than an allen key when others want a ride.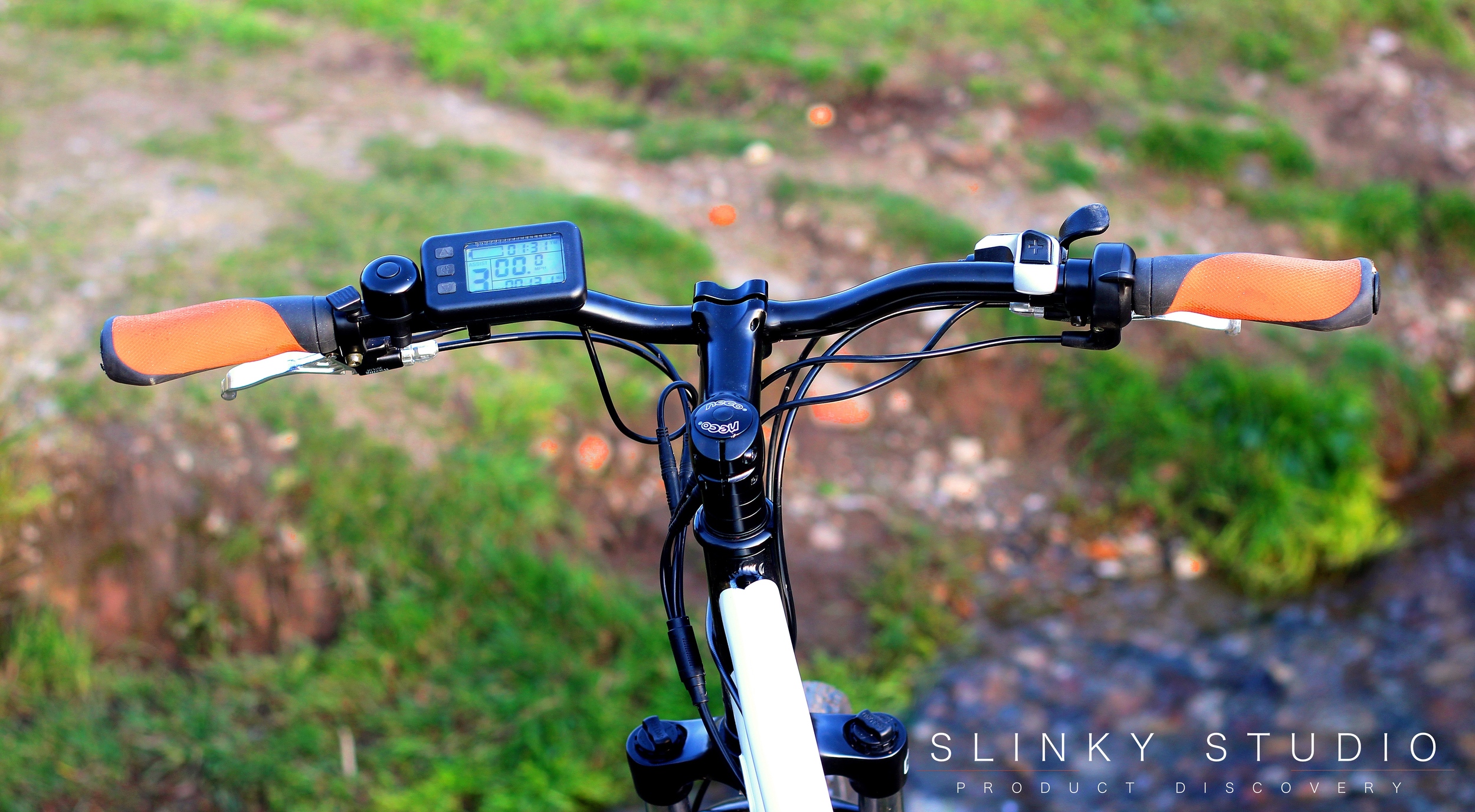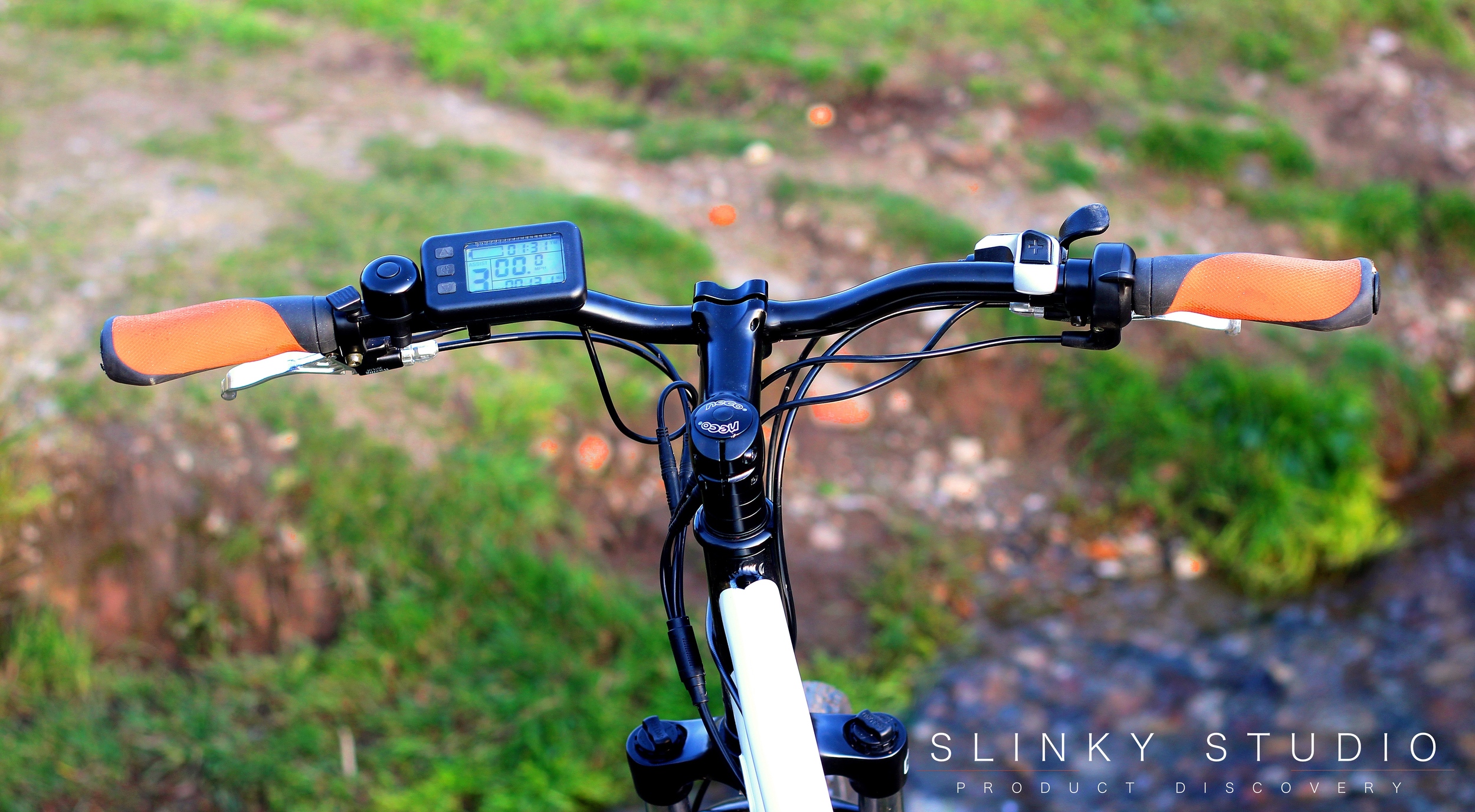 LED Display
It may sound strange, but one of our favourite features of Cyclotricity eBikes are their digital displays. They give a detailed reading of battery life, how long we've been riding for, the amount of miles we've racked up, the MPH/KPH we're travelling at and, of course, allow, via up and down buttons, the cycling adjustment between the 5 pedal assistance modes. Something only recently learnt from Cyclotricity is that the onboard computer actually measures the intensity of stress the battery is under. For instance, if travelling up hill the battery bars may drop away as an indiction that this style of cycling will mean only X-amount of battery is remaining. The display is also where we can dive deeper into the eBike's brain and reprogram it so it's road-legal on EU roads - restricted at 250W. This isn't something we can realistically do from the top of our heads. There are codes involved to input into the screen, which we'd recommend saving onto a smartphone for quick reference. One thing that has always puzzled us about these displays is that they have a backlight that triggers and immediately disappears when the bike is first booted. We'd love to be able to use the light in low light conditions - but it doesn't seem possible? *UPDATE: Hold the up button for a few seconds and the backlight is permanently on.
Battery Range & Charging
We rode the Cyclotricity Stealth derestricted for most of the time and at its full 1000W potential achieved consistently around 13 miles of range. We were aggressive on the throttle and used pedal assistance on settings 3-4 nearly all the time. In conclusion this range seems quite good for significant power draw and intensive off-road cycling havoc. Whilst we have limited the amount of riding we've done in terms of the more sensible on-road cycling, with the motor restricted at its legal 250W, it was no surprise that we drew better range numbers when doing this. With pedal assistance on settings 3-4 constantly and infrequent use of the throttle, distance numbers on-road were in the ballpark of 23-25 miles of range. This is quite a substantial drop when compared to the now discontinued 500W Cyclotricity Revolver, that shares an identical power system to the Stealth 500W - which we can squeeze 40+ miles of range out of on the same on-road routes. But it should be noted that the Stealth 1000W eBike is heavier, the Lithium-ion battery outputs a stronger 48V compared to 36V with the Stealth 500W, and the 1000W has 12Ah - whereas the 500W has a higher electrical capacity of 15Ah. Charging the battery is done via a plug and thankfully an LED battery indictor informs us when it's full - typically taking around 5-6 hours from drained. One little quirk is that the battery has an inbuilt USB connection, so if you get caught out and need to top up your smartphone, you can - that is if you've remembered your cable.
Performance & Ride
Whether trashing over and up verges and dips or charging flat out on a dirt trail smothered in stones, the Stealth plainly doesn't care and powers at a whisper through every terrain we've taken it on with pedal and electric power working in tandem. Furthermore, the 5 level PAS (pedal assist system) makes riding uphill or downhill little different in energy expended. Granted this is only true when we set assistance modes 4-5 along with an accompanying low gear, making pedalling more of an action than a task that demands any effort. Put assistance down to levels 1-2 and you still have plenty of power for off-road excitement, but crank it up to level 5, on a suitable gear, and force all your energy into the pedalling; at this point, with the bike working at full steam, you don't have time to take in the scenery - all concentration is on the path ahead! Don't fret, though, because this bike's setup is built for quick-witted steering and throttle tapping corner sliding. Gearing equipped is the 7 speed Shimano derailleur system, which has noticeably looser ratio in between the gears than the Revolver's 6 speed. Of course, all this speed means it is very important that the disc brakes are faster to react and bring the bike to a smoother stop than is the case with the Revolver's callipers. Press a brake lever and the motor familiarly cuts out, but more importantly the discs deliver greater control when leaning in and out of hasty turns, and this is fundamentally important for off-road stability. If off-roading is your primary agenda, the Stealth is without doubt the clear victor for such terrains.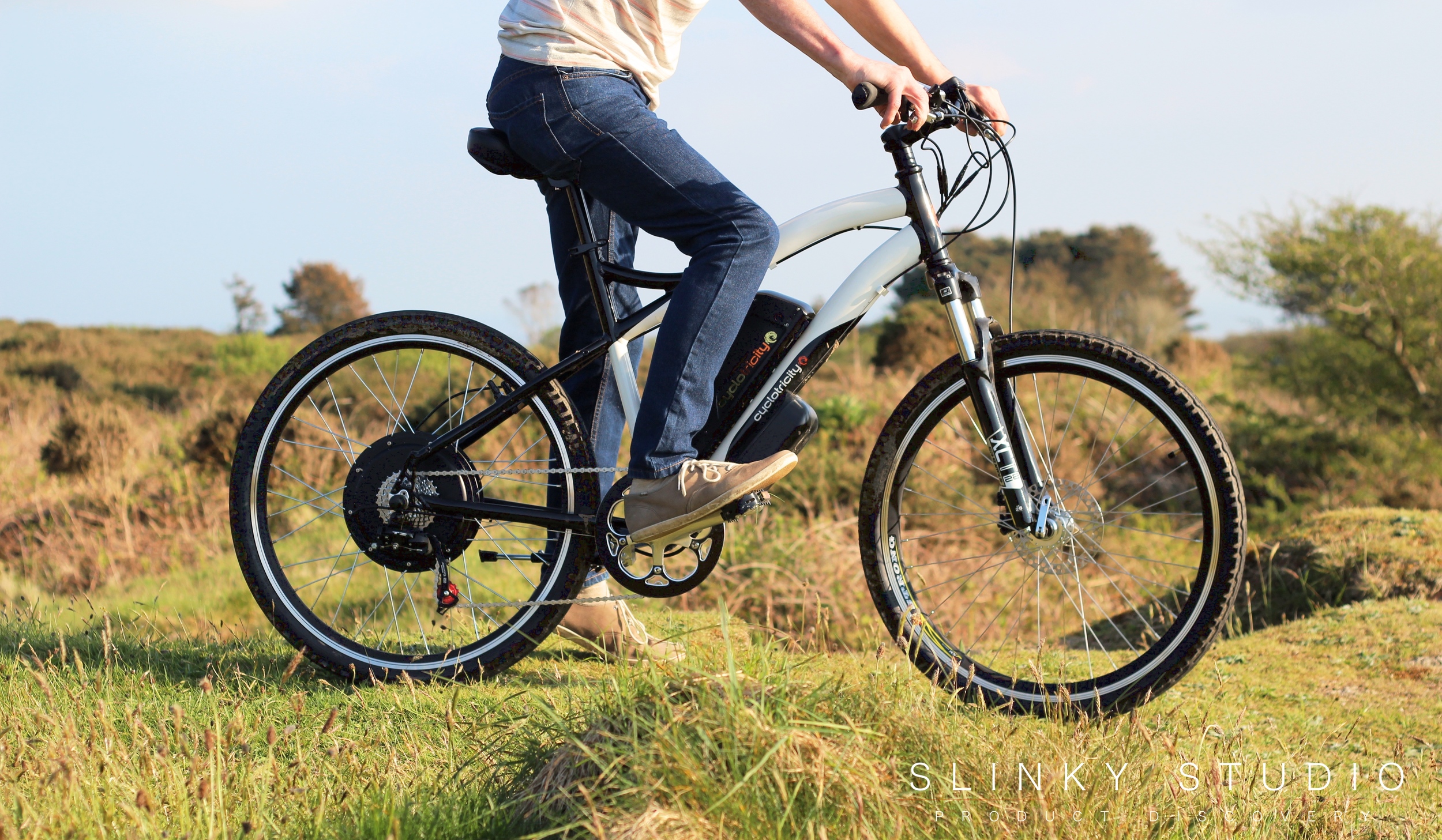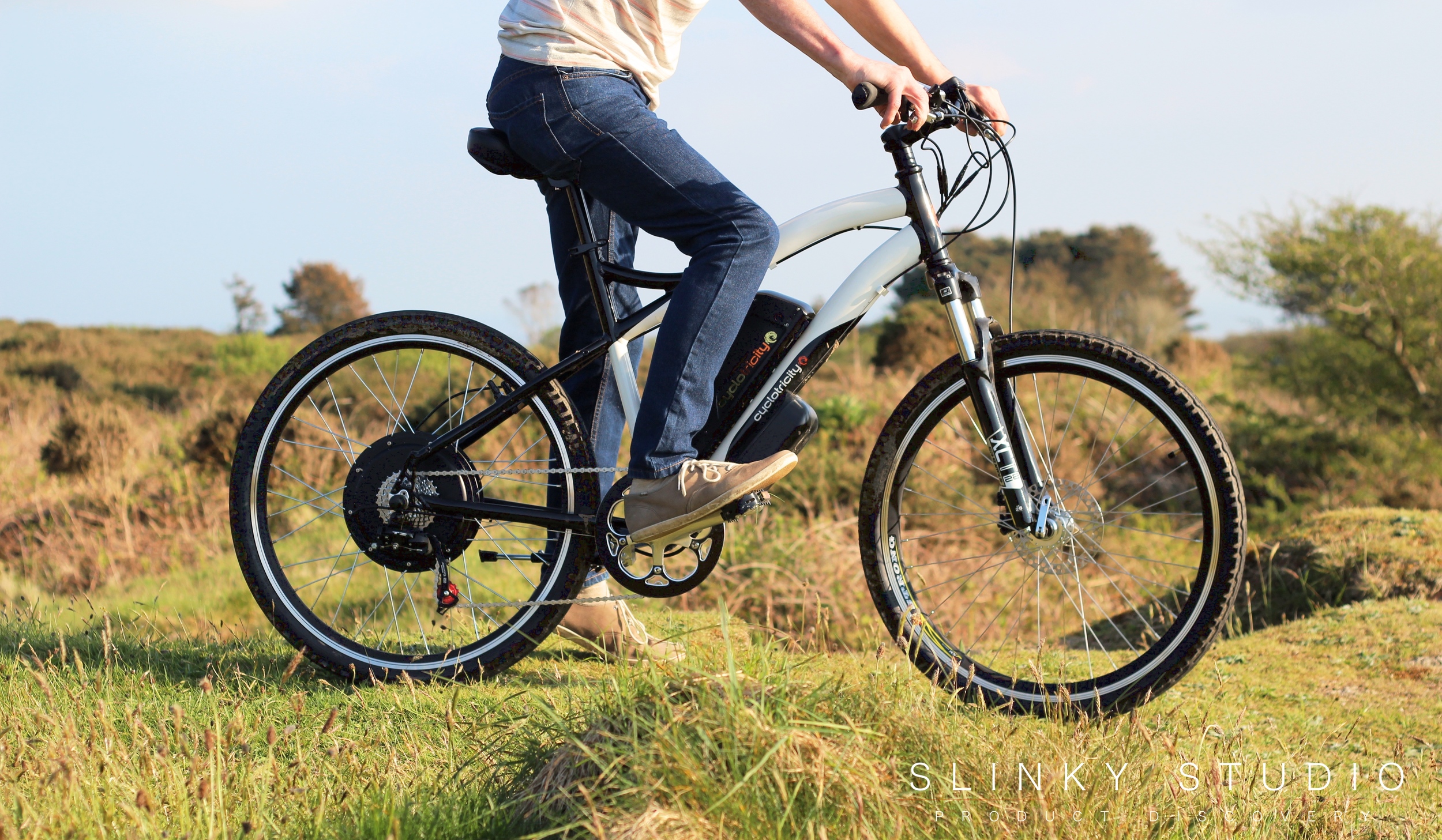 Our 1000W Stealth has ventured nearly exclusively on dirt trails, grass pathways and stony narrow lanes. It's where the Stealth belongs and, along with a bit of on-road restricted legal cycling at 250W at the max clocked speed of 15.5mph, which was certainly enjoyable, this is first and foremost a thirsty off-road design. If you're on the search for an eBike for your commute on-road, then the Stealth is legally restricted in such zones and therefore the power would be wasted. It would be best to consider a cheaper and still well-equipped eBike like the Cyclotricity Revolver (now 250W) or the lightweight and disguised Freego Raptor. We're big fans of the legacy 500W Revolver, which is now for all intensive purposes the Stealth 500W and know that it's a clever eBike for both on-road riding and fairly serious off-road. The 1000W Stealth takes it to another level, breaking into a category close to where petrol dirt-bikes voyage. Straight out of the box we darted out onto an off-road trail covering 12 miles to acquire a taste of the Cyclotricity Stealth's character. We noticed in contrast with what is now the 500W Stealth, the throttle is more aggressive. The 1000W Stealth's motor will rip the ground up in its quest to a top speed of 30mph and it does it in under 12s under our tests. Impressive? Definitely! And this mighty strong performance, aided from literally no pedalling, will tackle steep inclines in solo mode. It should be noted the throttle is pressure based, so the lighter the pressure applied the less power the bike has.
Of remarkable significance is the stylish and scientific aluminium frame. Scientific by fabrication, the frame's centre of gravity is skewed to the middle of the bike which is where the 4kg battery adds even more prominence. When riding you don't feel any inclination that it's unbalanced or needs to compensate for anything weight-wise despite the hefty motor being mounted in the rear wheel. So thankfully the 24kg mass doesn't incline to show itself, we also felt the frames geometry increased grip on slippery terrain and made rear impact a faded sensation before reaching the body, despite no rear suspension system. The SR Suntour Alloy front suspension is a friend to the frame and is 'floatier' than the ZOOM Alloy set on the Revolver: the pressure is adjustable, but set hard or soft, it performs excellently in partnership with the chunky tyres, keeping the body rested and avoiding that jarred feeling over harsh surfaces like pitted rocks or dirt bumps. Ergonomically the Stealth is agreeable for male and female riders alike, with the PVC leather saddle offering pleasant comfort for rides that go beyond four hours and the rubberised handlebars adding to the smooth tactile sense.
Verdict
The Cyclotricity Stealth exhibits cutting edge eBike technology for a ride that is exciting, brave and quite sensible in design terms. Experienced off-roaders will feel challenged and reinvigorated by the youthful spirited speed of this adrenaline-pumper. It's just flat out electric fun!