Cutting wood by hand can be hard work and we thank goodness that there are various electric saws that can help. One of the most useful and substantial of these is the circular saw, but the standard two-handed version is often a little large and heavy to bother using on quick trimming and finishing jobs, so a smaller version of the tool is now often used instead, and here we take a look at the corded electric TackLife Mini Circular Saw (CSK76AC), at £99.99, to see how it copes with day to day wood cutting work.
Build Quality and Blade Assembly
TackLife tools have a solid look and feel and this mini circular saw is no exception. The robust alloy steel encasing the blade and drive unit is strong but light in weight and the solid plastic casing around the 3500rpm 705 watt motor, which is, of course, positioned in the handle, has an exceptionally good thick layer of rubber right around it which both works for grip when in use and also protects the motor from the scuffs and knocks this type of tool tends to receive when in use.
Assembling the blade is a simple affair, with a provided Allen key wrench that removes the securing bolt whilst you hold a locking button to stop the blade turning against the pressure of the wrench. TackLife include three tough 115mm X 10mm 24 tooth carbide-tipped blades, which means you are unlikely to need to purchase new blades for a while! Included with the saw is an adjustable rip guide and a vacuum adaptor for removing sawdust whilst in use.
In Use
Once the blade was in place, the first thing we noticed with this mini circular saw was how well-balanced it is to hold. The weight of the motor is behind your hand and balances the tool against the weight of the drive and blade. As soon as you grip the handle your forefinger and thumb automatically reach the two buttons necessary to activate the motor and this saw can easily be used with one hand. Additionally, the cutting line is in good view because the blade is mounted on the left side of the saw.
Our first use of this saw was to cut a 90 degree chunk out of the length of a long skirting board. As you will see, this needed a fair amount of precision in both cutting depth and keeping a straight line, making it a good test for the saw. We were able to use the adjustable rip guide, held firmly in place with a simple Allen bolt, and adjust the depth of cutting with the very easy to use thumb twist bolt that allows for depths up to 40mm. We were only cutting depths of around 14mm on the first cut and 10mm on the second so there was a need for considerable accuracy to avoid ruining the skirting. The transparent blade guard is on a spring and we needed to use the thumb handle to lift it clear of the wood, which is simple enough but care should always be taken not to put your hand anywhere near the blade! Amazingly this TackLife mini circular saw ripped through the work and allowed us to cut with great precision, and also change the cutting depth in seconds between cuts.
As well as the ability to cut straight and also adjust the depth of cut, the bevelling angle can be altered up to 45 degrees with another simple thumb twist bolt. This makes the saw highly adept for use in many different scenarios. In fact, we have found this mini circular saw so easy to use that it has become a first consideration when cutting wood for most purposes; be it wood flooring or 22mm plywood it rips through them with no hesitation. We have even used it to cut a rough curve for a pine shelf before finishing off with a surform plane - our jigsaw had broken down, but this saw allowed us to see what we were doing whilst making easy work of the cutting.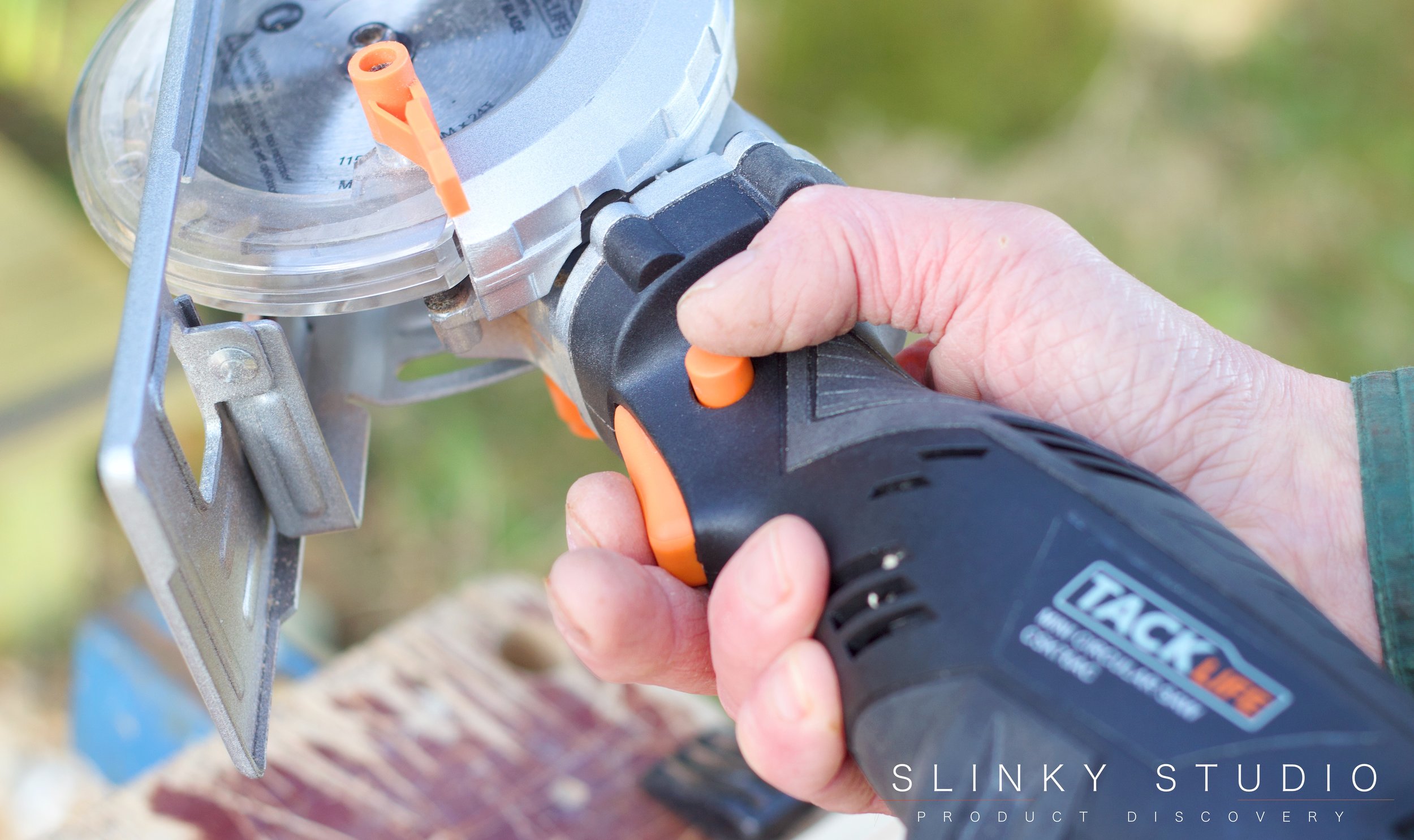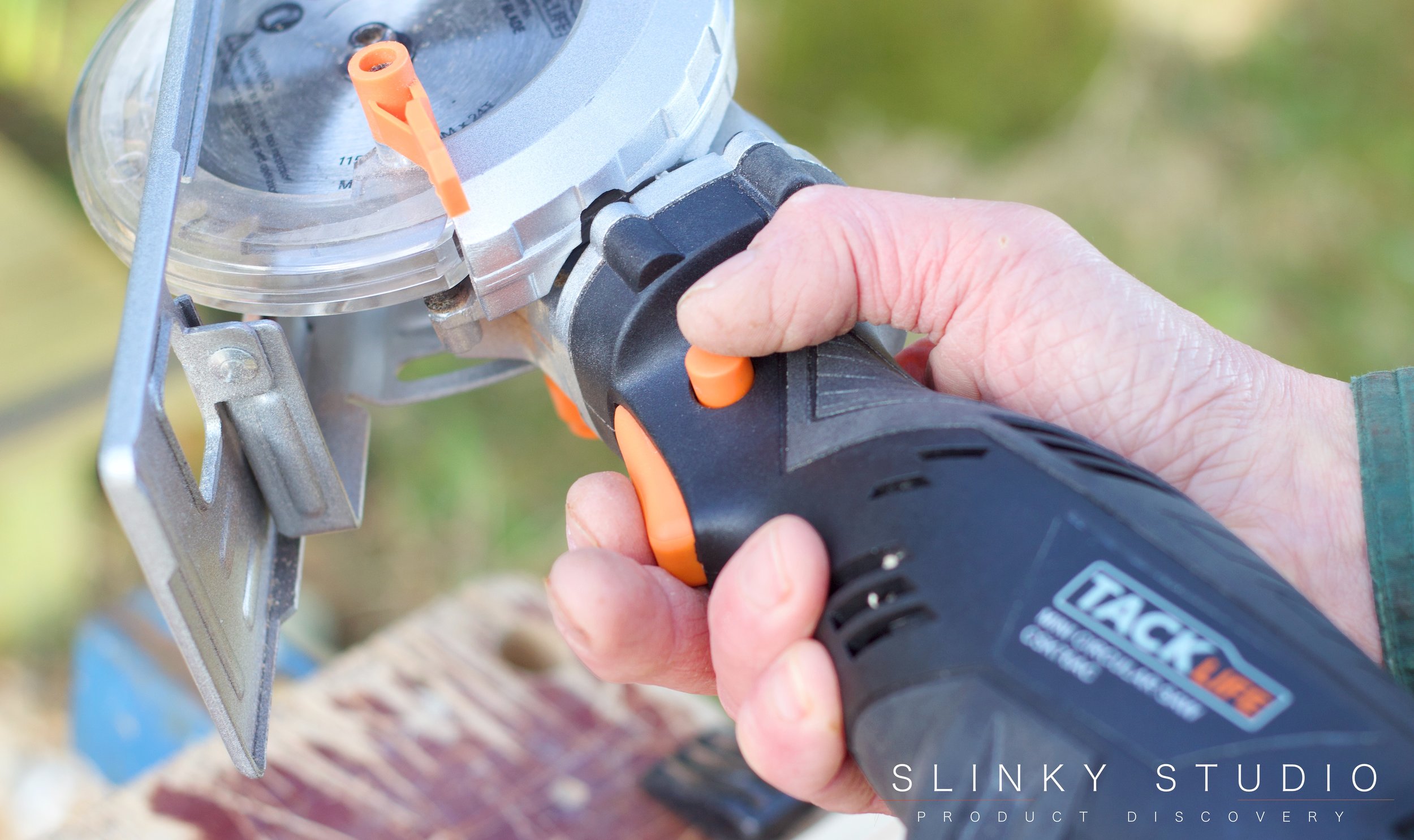 Dust Collection
For quick cuts we have not used the dust collection, and were pleased to note that the sawdust produced tends to fall easily from the extraction hole and not back towards us. However, with the dust extractor attached to a vacuum there really is a surprising lack of dust, making the saw even more manageable within the home environment.
To Sum Up
A well-balanced, reasonably lightweight electric circular saw soon becomes a much-used tool, and the TackLife Mini Circular Saw (CSK76AC) has all these qualities wrapped up in a robust design, guaranteed for two years, that makes it not just easy, but a pleasure to use at an excellent price point.