SACKit's latest offering is the MOVEit speaker line, which demands a hefty €227 per speaker. They're Wi-Fi multi-room speakers that don't require a power chord thanks to an integrated 12 hours of battery life. So they are taking on the likes of Sonos, Libratone and Bose which all have similar product entries utilising the traditional plugged-in experience. As you can imagine, we were very interested to see whether going fully wireless is necessary, or even sensible, in terms of audio performance for dedicated immersive room filling audio.
Design
The front of this Danish designed speaker is a statement which contrasts the colour of the fabric material against the entirely rugged white remaining body, and we've grown to love their no-fuss and minimalist image. Interchangeable coloured fronts can be purchased separately or in bundles with the speakers if you feel like a change. We've got the flagship 'dusty blue' front - which in fact looks like a grey and a very pleasant shade at that. All the cross stitch detail glimmers in the sunlight and adds a contemporary rawness to our wooden and white themed studio environment. Due to their thin and squat (310 x 160 x 80 mm) profiles, these 2kg speakers are particularly shelf-able. We've had ours living on tables, in front of TVs as a sound-bar, on floors, shelves and occasionally they've made it outdoors - weather permitting. The physical design encourages these completely wireless speakers to be moved anywhere due to a rear cut-out which acts as an easy to grab and go handle and also as an audio tunnel.
These are smaller, lighter and we think more attractive than the AirPlay Libratone Zipp speakers, but bigger than the battery-less and wired Sonos Play:1 units as well as significantly longer. Pushy pets need not be of concern, with the SACKit MOVEit speakers deliberately weighted to persuade mass towards the base of the speaker; so they may rock if, say, a cat does clumsily bump into one, but will counter-balance; and ironically this kind of design should also emphasise bass tones. Lastly, on the back of each speaker is the charge port (fours hours to charge) or if desired it can be run via mains electricity. There's also a direct 3.5mm aux jack input and a USB 2.0 port for charging mobile devices from its battery.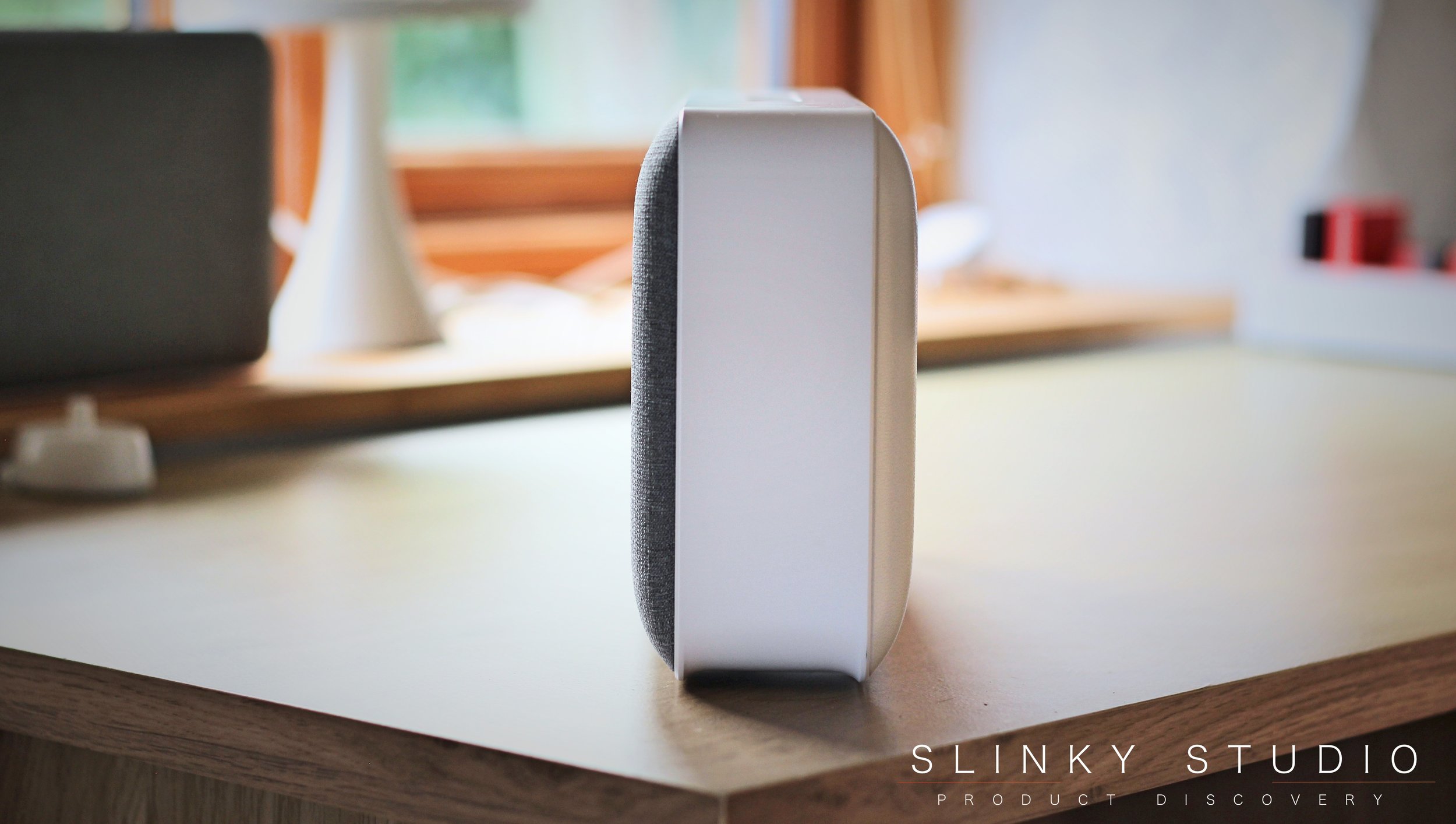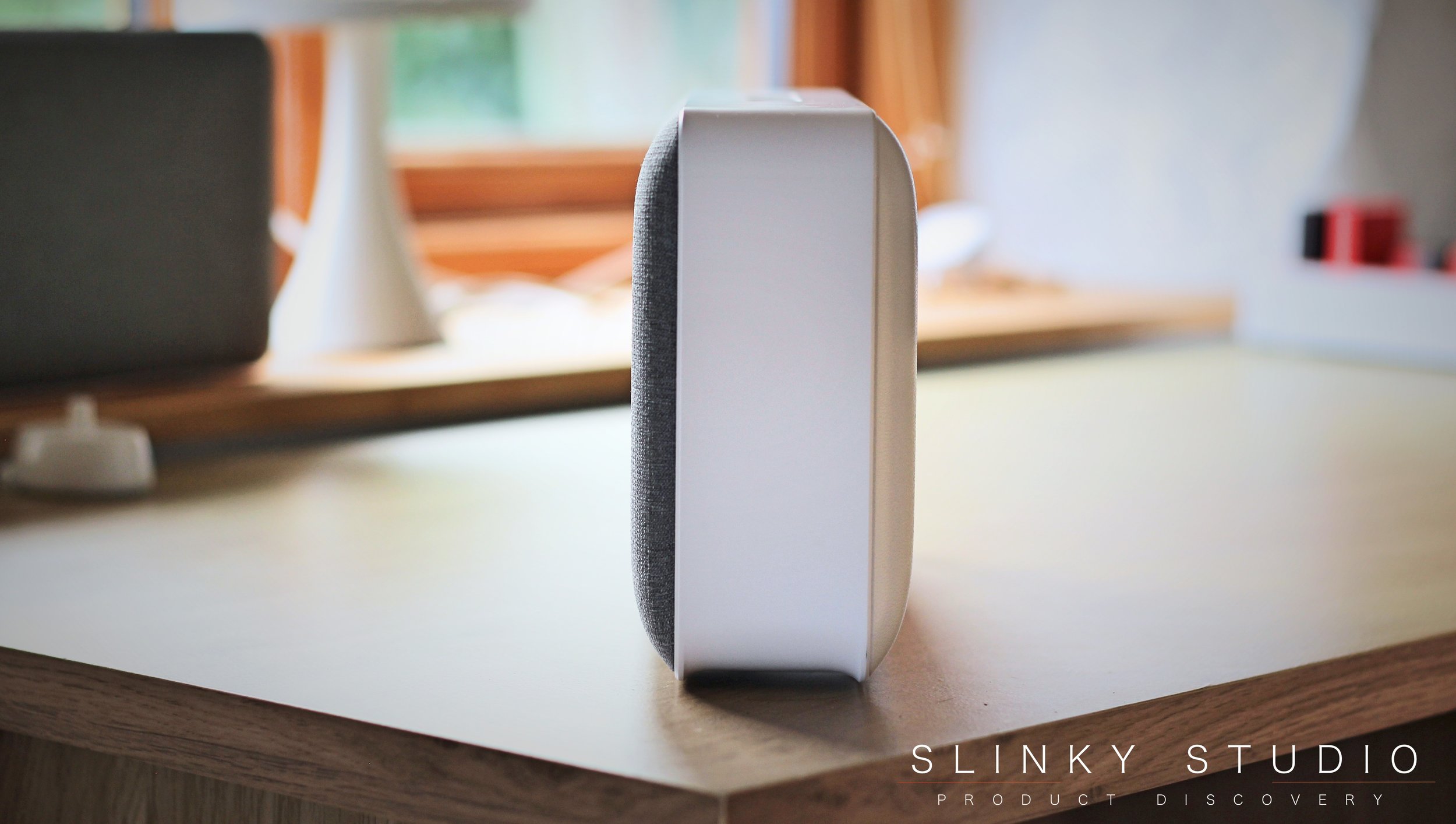 Setup
Oddly our first MOVEit speaker was setup and ready to play and be controlled via Airplay in under a minute using the SACKit iOS App. Simply by holding down a button on the speaker the App brought it onto our Wi-Fi network. But the second one wasn't playing ball and we had to use an alternative setup method built into the App by SACKit as a backup: this required a direct Wi-Fi connection to the speaker and then an entry of network password via the App - and it worked! Finally we could conclude which speaker was assigned to left and right channels for stereo and set-up a multi-room experience throughout our studio. In fact, a maximum of 6 MOVEit speakers can be connected and controlled for multi-room use on one network. So separate family members can independently control the audio playing through each speaker on a per room basis if in range of the Wi-Fi network, and it works equally as well as Sonos's equivalent ability.
Controls
The MOVEit has the obligatory illuminated onboard button control panel positioned along the top - on/off, pause/play, volume up/down (if double tapped skip/back) and Wi-Fi control which when pressed cycles between Bluetooth, direct aux input and Wi-Fi modes. One particularly remarkable thing about the SACKit MOVEit speaker system is the coinciding SACKit Player App release. The interface is feature rich, fairly easy to navigate and we've found the control of music playback over both Wi-Fi and Bluetooth to be what we consider instantaneous when it comes to volume control. However, there's a small delay of around 1-3 seconds, which isn't a deal breaker, when controlling anything else audio over Wi-Fi Airplay - like skipping, pausing, playing, etc. We hope this potentially becomes zippier with future firmware updates.
It's worth noting that Sonos is a walled garden experience and a fantastic one at that, but you have to use their software to listen to anything. SACKit, on the other hand, have chosen to rely on Wi-Fi AirPlay on Apple devices or Bluetooth as their main means to streaming, with their App primarily guiding you through setup, adjusting settings and providing a list of shortcuts to jump to the dedicated iHeartRadio, TuneIn or Spotify Apps. You can control track streaming within the SACKit Player App too, but we nearly always use the iOS audio controls and streaming Apps. We've never experienced any audio dropouts, interference or missing track beginnings of which some Wi-Fi speakers can be guilty.
Battery Life
One of the best features about the battery is that the MOVEit preserves it if you've not used the speaker for 10 minutes or so, by shutting off entirely - this has saved us too many times to count. But what you really want to know is raw battery life stats and these stand at over 10 hours with volume cranked up at 75-80% using Wi-Fi streaming. So it has strong stats for continuous loud audio playback streaming, but when we dart around with volumes and use the speaker day after day for a few hours - we can indeed score the claimed 12 hour battery life SACKit are promoting. In fact, we left it playing at low volume (10%-15%) and, although we don't have the exact number of hours it ran for, it did far exceed 12 hours, that's for sure.
Sound Performance
After a week of not just streaming music from Spotify and our own iTunes library, but also tuning into the radio outdoors, and watching hours of YouTube videos and Netflix with the speaker setup as a soundbar, it was obvious that one MOVEit speaker containing 2x3" full range drivers and 2x1" tweeters will aptly distribute enough volume to entertain, and is positioned far outside the confinement of just being another powerfully bass-emphasised battery powered wireless speaker. One of our early listens was the disciplined performance of 'Hallelujah' by Tok Tok Tok and it retains most of the detail we attain from the cheaper yet wired speaker packages - like a singular Sonos Play:1. The female singer's vocals are flippantly alive and the simplistic yet powerful bluesy instrumental arrangement with a bass, keyboard, saxophone and drums are sparky, with noticeable fine detail like the bassist's fingers engaging with the strings. When we compare these to other speakers they could potentially persuade us to entirely cut the power chord from our speaker setups due to the quality of sound emitted. The MOVEit isn't quite as rich and detailed as a Play:1 speaker - but definitely does demonstrate tremendous value for the truly wireless functionality and huge battery life.
You won't be able to easily talk over one with volume peaking above 80%. But the real brilliance and even louder volume levels is heard when another MOVEit is brought into the scene for true spacious stereo sound that shows all genres in a good light. Two individual units thread together and flow audio seamlessly between them to provide a significant sound stage full of detail that couldn't fail to impress. We had each speaker placed around 5 metres apart and as an example song the live performance of 'Pumpkin Pie' by The California Honeydrops sounded excellent. Hitting our ears and body with a rendition of believable reality: if we closed our eyes it sounded like we had the entire band in the studio. Ben, on the washboard, deserves a standout mention, being projected with laboured detail that circulates in our room's atmosphere, with the bass distilling into our furniture and walls. Truly an experience that can rival the Sonos Play:1 speakers paired in stereo. 'Raindrops' by Scarlet Mae is a spectacular song to demo vocal pronunciation. Scarlet's principled twinkly high vocals fly straight to the front of the audio output, with stretched depth that fills rooms and open spaces with the remaining piano, drums and bass. Speaking of bass, the new release 'MJ' by David Morin is pumped full with bass heavy instrumentals, all of which were gloriously promoted via the speakers: they thump well above their size and weight. Even David's vocals were bound with grunt.
Verdict
We're great fans of the Sonos system, but since receiving the SACKit MOVEit speakers at the studio we've used our Sonos setup less frequently. The lack of any power chord on the MOVEit speakers, with no restrictions to where we can listen, has definitely been a big reason for this, but undoubtedly the similar tight wireless stereo audio experience with two speakers has a huge amount to do with it too. Furthermore, the software associated with this style of multi-room speaker system can often define everything, and SACKit have nailed it on their first attempt. The MOVEit has pleased both our ears and eyes! If you're craving real portable rich, loud and ingenious hardware and software design then look no further.