The all new £195 or €195 Handpresso Auto Capsule rethinks a few design aspects and excitingly works with your favourite Nespresso compatible capsules this time around too. We reviewed the previous coffee making model for the car and mostly liked it, but the temperature wasn't quite hot enough - so has that been properly addressed this time around?
Design
A few of the previous Handpresso releases had accented glossy parts which we are only too pleased don't feature on the new and impressively robust Handpresso Auto. A true benefit of the all matt textured outer coating is that any espresso drips and their residue can easily be wiped away. Out of action the Handpresso is the perfect size to rest in cup holders and the fabric power chord neatly wraps around the body. Well worth noting is that it's a bottom heavy design, so it counter balances its own 880g weight rather well if only nudged a little on a flat surface. One exception to our overall high praise of this design is the supplied plastic espresso cup. It doesn't really have anywhere obvious to go and it would be neat in every sense of the word if somehow the cup incorporated itself into the design of the main appliance; food, or rather 'espresso', for thought on future releases.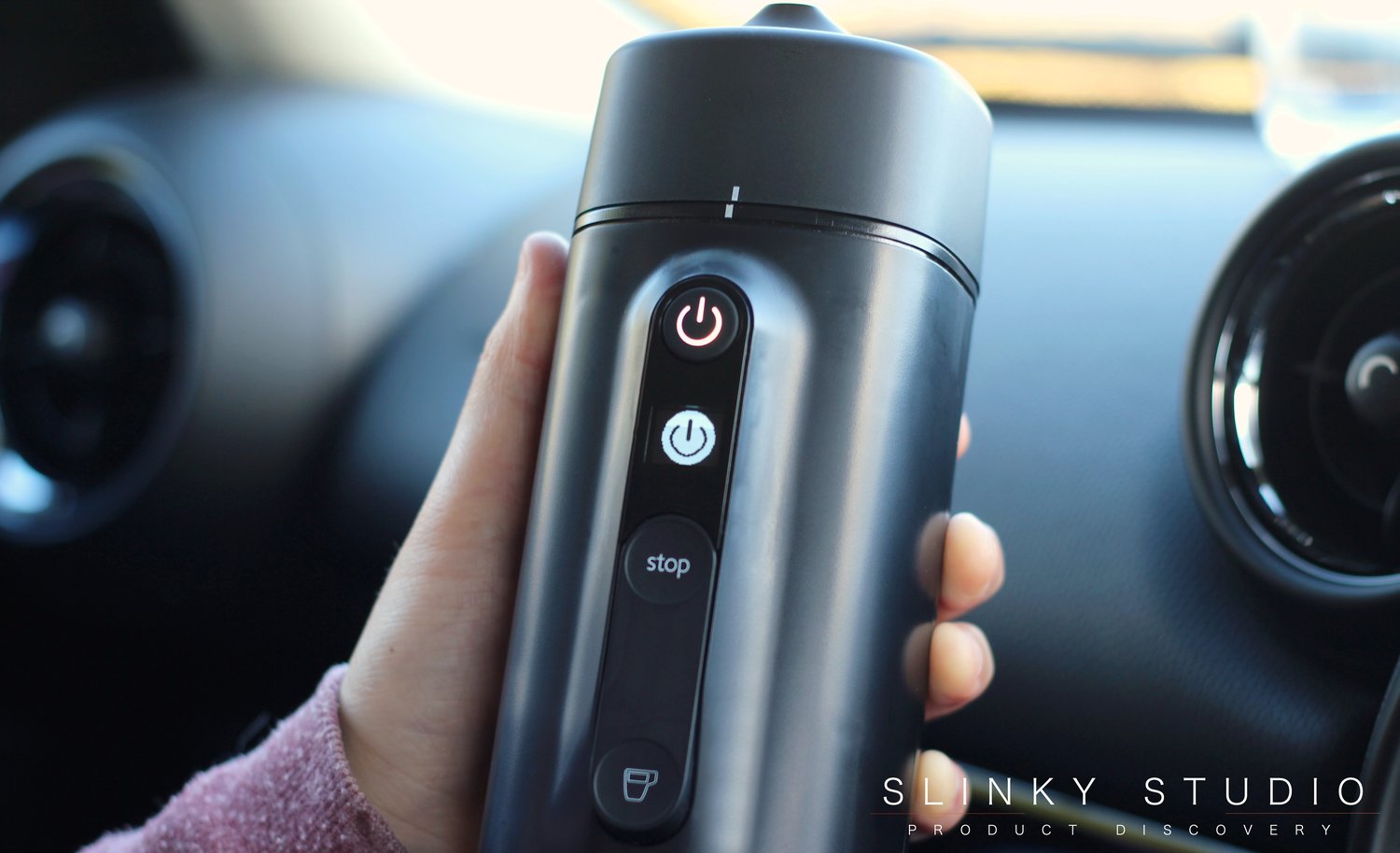 How easy is it to use?
To begin, plug the Handpresso into either a 12V or 24V car 'cigarette lighter' DC power supply - in our case we made use of the 24V in our MINI Countryman - and you're ready to start the process. The lid unscrews to reveal a reservoir where 50ml of water is to be poured - and not to worry, you don't need to pre-measure this; simply pour from your water bottle and the LED light will turn green to signify there's enough water. After this, drop the Nespresso compatible pod into the Handpresso and it's then pierced upon screwing the lid back on.
Hit the power button and the process will initiate, with the machine firstly pressurising itself and then heating in silence. A digital display replaces the previous analogue temperature gauge, so now a percentage of completion is shown and will finally read out 'ok' when your espresso is ready to be delivered to your cup. Turn upside down and depress the satisfyingly tactile 'brew' button and once it's finished hit stop. Noticeably this version doesn't drip as much and doesn't spray out at all. We must also not neglect to mention that the speed in which the espresso was ready to be extracted was striking. In under 2 minutes it's in hand to be consumed - faster than queuing up for a barista to make it! The digitised aspects of the whole affair make the experience of using the Handpresso in the car more leisurely this time around. Furthermore, because the power button and display are illuminated, it's much easier to use in the current darker wintry days.
Does the espresso taste nice?
Unfortunately we couldn't test any like for like coffees between the two Handpresso Auto models we have at the studio due to compatibility differences. But what we can say without question is that the 120W 19 bar pressure (3 bar more than the E.S.E. model) produces exquisite results that rival, if not equal, espresso that you'd expect from a dedicated higher end Nespresso machine. A rich and aromatic body that has decisive layering and generous flavoursome crema to be enjoyed at your own convenience. Put simply; the quality impresses!
What most pleased us is that there are no longer any sacrifices to be made for the convenience of onboard espresso. The temperature was the one underwhelming aspect our previous review of the Handpresso Auto noted, and this has been well and truly addressed, with temperatures of what we verify are 'tongue burning' at 78°C. There's no impending feeling of being rushed to drink your espresso anymore, so it can be truly savoured and enjoyed when made with this new model.
Verdict
The Handpresso Auto Capsule erases the sacrifices and offers up a leisurely approach to making espresso in the comfort of your car. With improved digitised controllability, a faster extraction time and gorgeously flavoursome espresso results, it's easily our favourite Handpresso release yet!