The £259 Bissell MultiReach ION+ 25.2V cordless stick vacuum competes directly against the AEG UltraPower Plus vacuum cleaner, the Dyson V6 and to some degree the shapeshifting Vax Air Cordless Lift. Admittedly it's a bit of an outsider in design and function - basically it's an extremely light answer to both an independent portable and floor cleaner design. We've been attempting to see if this 2-in-1 design can stand up against the previously mentioned cordless cleaning heavyweights we've reviewed.
Design & Ease of Use
Over the course of 3 months we've learnt to enjoy little design inclusions that go a literal long way: Like the 2-way folding handle, making the Bissell MultiReach a cleaner that can truly be hidden within the shadows underneath the stairs. Furthermore this handle can actually flip forwards for super easy cleaning at the studio under our tables, chairs, cabinets, etc. In most cases it means we don't actually need to bend over and the cleaner body itself is so pivotable that sweeping the low volume vacuum cleaner underneath anything is rather easy. The 180° pivoting design is most useful for edge cleaning against skirting/walls and running along the feet edges of furniture. This looseness is no concern when the cleaner is dormant either, it actually stands up all on its own; whereas the similarly designed AEG UltraPower Plus stick cleaner can act a little tipsy and fall over quite frequently!
Separating the handheld cleaner from the main body is a fairly easy task, with just a firm tug, though a little care is required in realigning the handheld part with the stick body - but it does only take seconds to do. Attaching the crevice tool, upholstery brush and high reach extension wand are all simple tasks too. We also thought the selection of accessories was ample, but the addition of a smaller motorised tool would have been the cherry on the cake as we will discuss later. Emptying the 1 litre dust bin was also an easy task - which is reassuring because its limited holding capacity for dust means it will need emptying frequently and the washable filter needs a good knocking out every week too.
Lastly, it's not a bad looking product: Bissell are joining trends and are using bright colours that contrast sleek silvers throughout. Furthermore we particularly admired the honeycomb chrome-like grill on the sides of the cleaner. Overall its shaping is genuinely pleasing and makes for a household appliance that is casually contemporary. We're not kidding when we say that the Bissell MultiReach is light. To put its impressive lightness into perspective, we can actually pick up the entire cleaner with just our little finger when it's folded.
Battery & Charging
The 25.2V Li-Ion battery was able to capture and marginally exceed by a few minutes the 40 minute claimed runtime in our mixed usage. That's actually better than the Dyson V6, AEG UltraPower (on max suction) and on a per battery basis it beats the Vax Air Cordless Lift. It's fair to say we were more than satisfied with the battery performance and were able to break boundaries with a single battery comparison to get more cleaning done in a single session. A plastic docking station gives the Bissell MultiReach ION+ a place of permanent residence within a home, albeit one that is located near a wall plug. It facilitates the storage of just one attachment, which is a blatant design flaw, as the sheer volume of the base could easily hold the other attachment and wand. Whilst not a massive issue, it does highlight some missing refined convenience.
Performance
Floors: Bissell have engineered the MultiReach ION+ to be first and foremost a very good day to day routine floor cleaner that has a control pad on the handle to trigger the brushbar, edge mode, boost power and the power on/off. We've had it sweeping hard wooden floors and thin, medium and thick pile carpets, where the cleaning performance on boost mode has been very comparable to the AEG UltraPower Plus on its highest power, whisking out that fine static dust from carpets. As demonstrated by our mandatory flour test, it sucked up all the flour on both a hard floor (brushbar turned off) in just one pass.
However its performance was uninspiring on a medium pile 100% wool carpet with the brushbar on in six vigorous passes with boost mode. Equal scoring to the Dyson V6 on the hard floor test, but the Dyson trumps it on carpeted floors - clearing the flour in just two passes. (We'd have to say that the Dyson V6 [DC59] still stands as the front runner for cordless floor cleaning performance benchmarks. Most other cordless cleaners we've reviewed performed better in our carpet test too.) Nevertheless the Bissell did impress with its edge cleaning ability that locks the front cleaner head to the ground and releases suction to either side to create a strengthened seal. It works well and effectively picks up dirt with this targeted suction and the side brushes also help to disturb trapped particles.
Portable Cleaning: Where the freedom of cordless shows itself to be indispensable when embedded into a lifestyle is for spot cleaning. The ability to reach and suck up small messes is such a time saver! The Bissell MultiReach ION+ is fit for portable cleaning and has dealt with breadcrumbs, flour and dried mud - just some of our floor accidents over recent months. So for the occasional spot cleaning it's adequate, but when we tested it within an environment that was littered with debris of different kinds - that being a car interior - we really saw where some constructive improvement could be made - we had to pass the cleaner over littered carpets several times to see clean fibres. With the Bissell being a £100 cheaper than the Vax Air Cordless Lift and £200-£300 cheaper than Dyson V6 variants, there are some apparent cost saving exercises and suction was a standout weakness within the handheld setting. It basically needs increased suction (something that is especially apparent when using the high reach extension wand), or alternatively a motorised tool like the Dyson, where such tools click into place firmly connecting them to the power supply.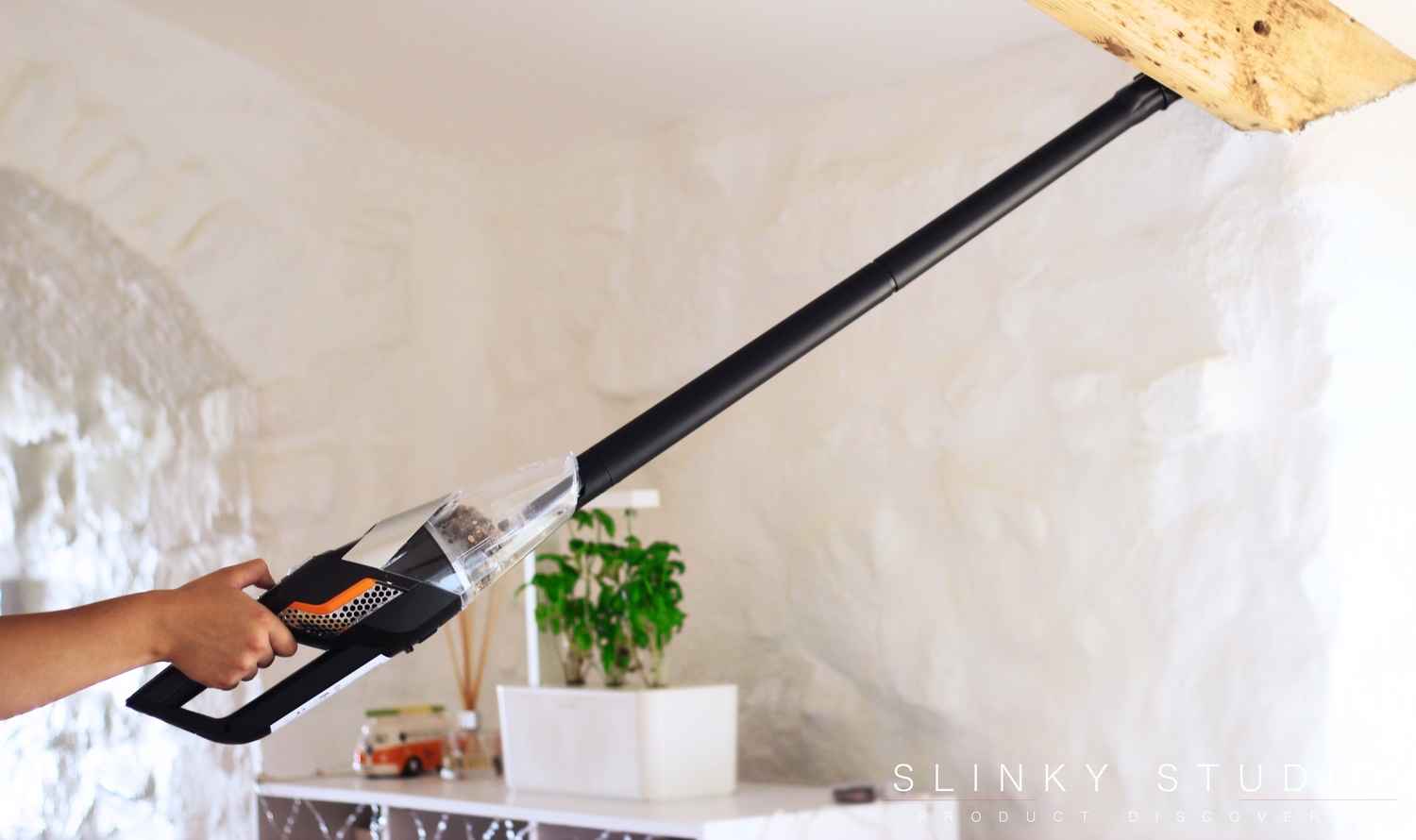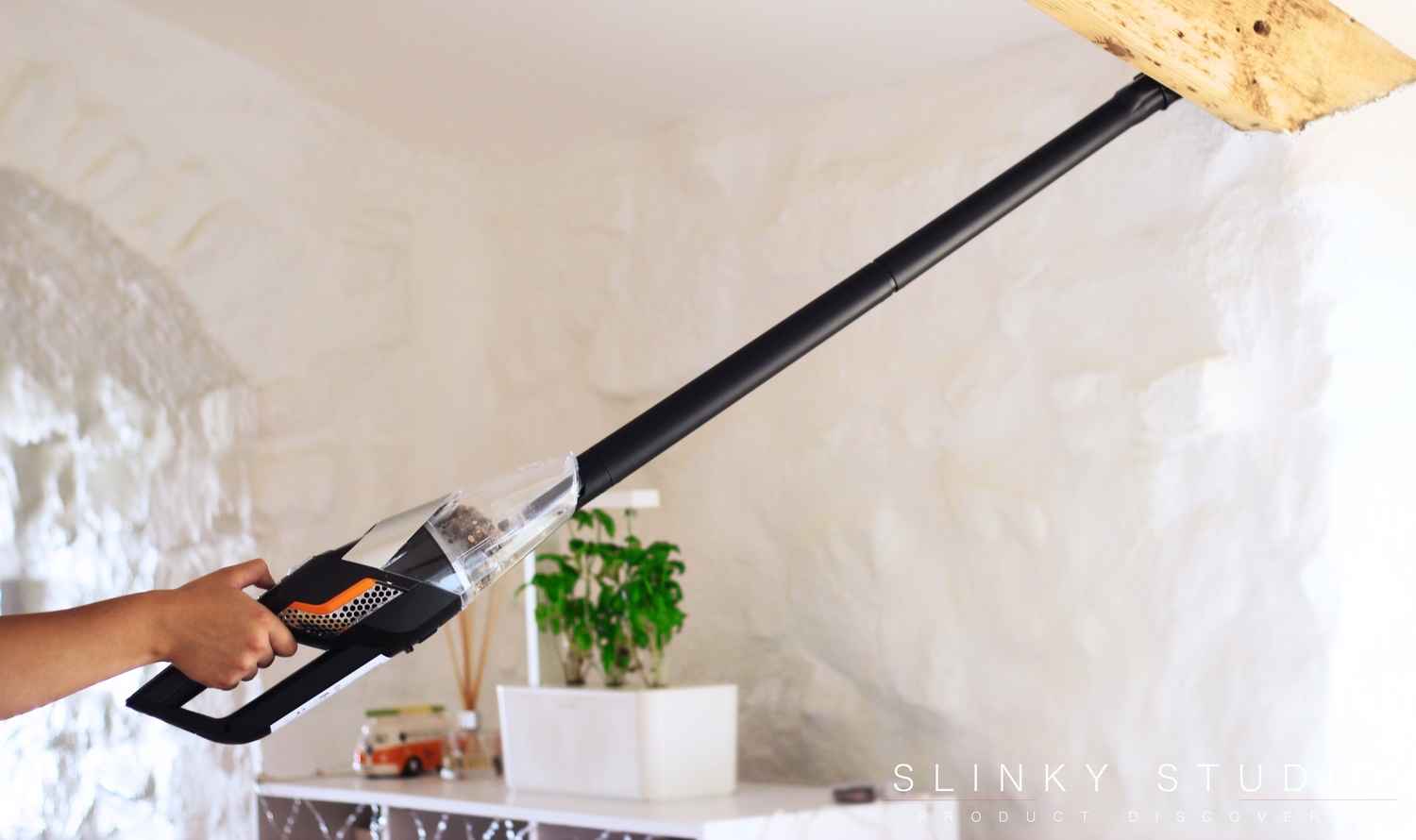 Verdict
The Bissell MultiReach ION+ is a modernist approach from the company to design a desirable product that utilises space within a home environment smartly. As far as cordless stick cleaners go it's one of the best we've seen for hard floor cleaning and sports a terrific 40 minutes of battery life. Its savings in comparison with its rivals are substantial, but it needs more impressive suction to be considered a standalone handheld cleaner when removed from the stick for tasks like cleaning the interior of a car and carpet cleaning can definitely be improved.