The Audaz Gallant is a timepiece with historical design notes as well as a modern Japanese automatic movement. We've been wearing it to see whether its movement is reliable and to see if this $349 timepiece is a worthy investment.
Design & Practicality
The meaning of 'Gallant' is loosely heroic and brave. The design certainly lives up to these statements. It's not a delicate creation, but instead the build quality sends the notion that it will last a lifetime. It looks and feels like a solid mass! The finished aesthetic creates a timepiece you'd imagine on a captain's wrist. It exudes a sailing and sea feel, magnified by the unidirectional bezel which turns this into a qualified watch for diving. Furthermore, it's rated for 100m water resistance, and from our fairly boring 20 minute dip in the sink and spray test it survived! Also the chunky leather strap dries off reasonably quickly, but we're not sure if it's coated with anything to further repel water. Generally speaking, leather is quite durable, but really the bezel incorporation is designed for partial usage rather than as a dedicated diver's companion because of the leather strap.
As a complete timepiece, the blend of a brown leather strap, a chunky crown, ivory-styled dial and 44mm gunmetal stainless steel casing works to convey the detailed image we previously mentioned. However, there are four remaining variants with distinctly different colourings available. One of our standout favourite design incorporations is found upon turning the case over, where a circular transparent window reveals the internal automatic Japanese mechanism and pendulum in action. This also peaks through from the front face of the watch on a smaller scale.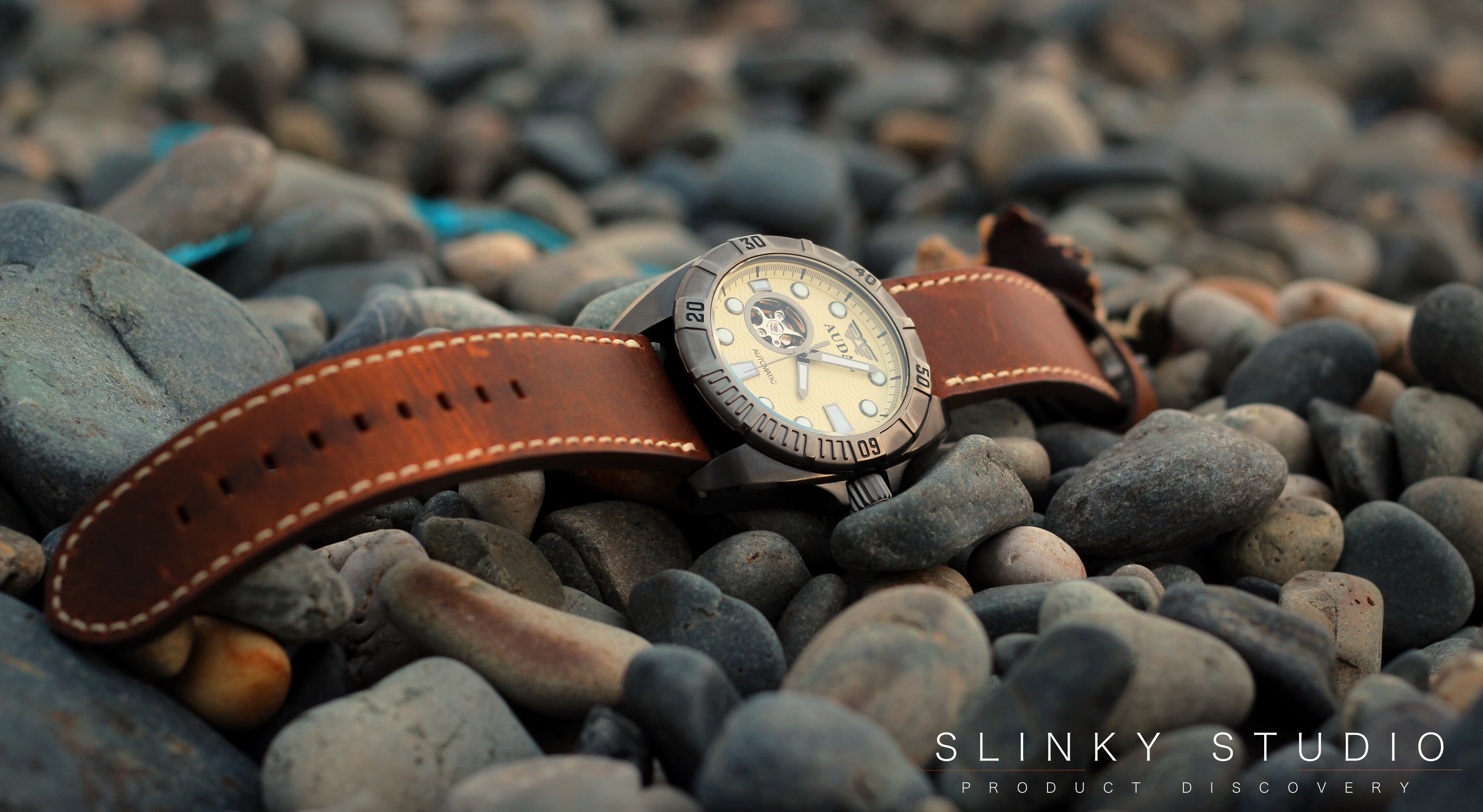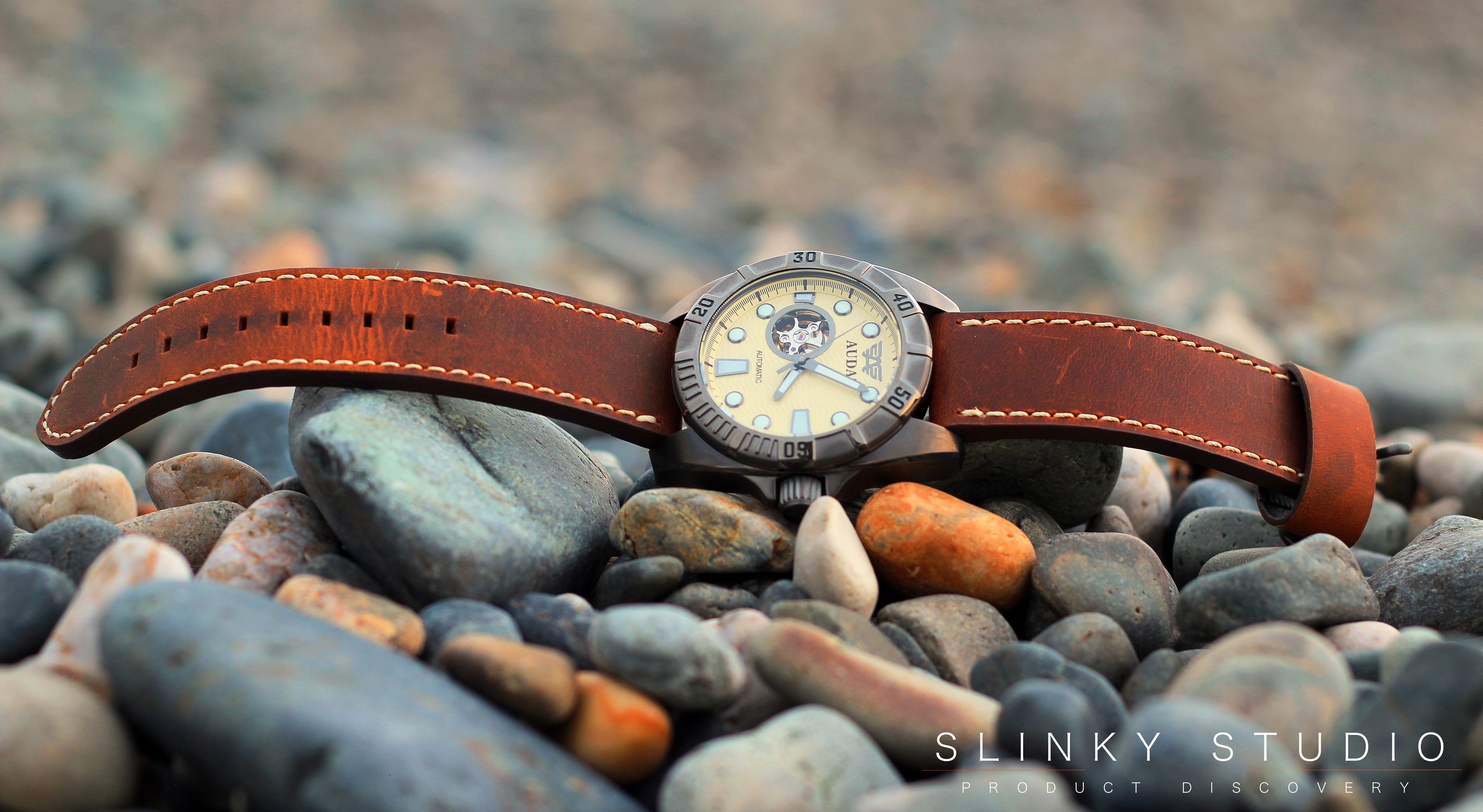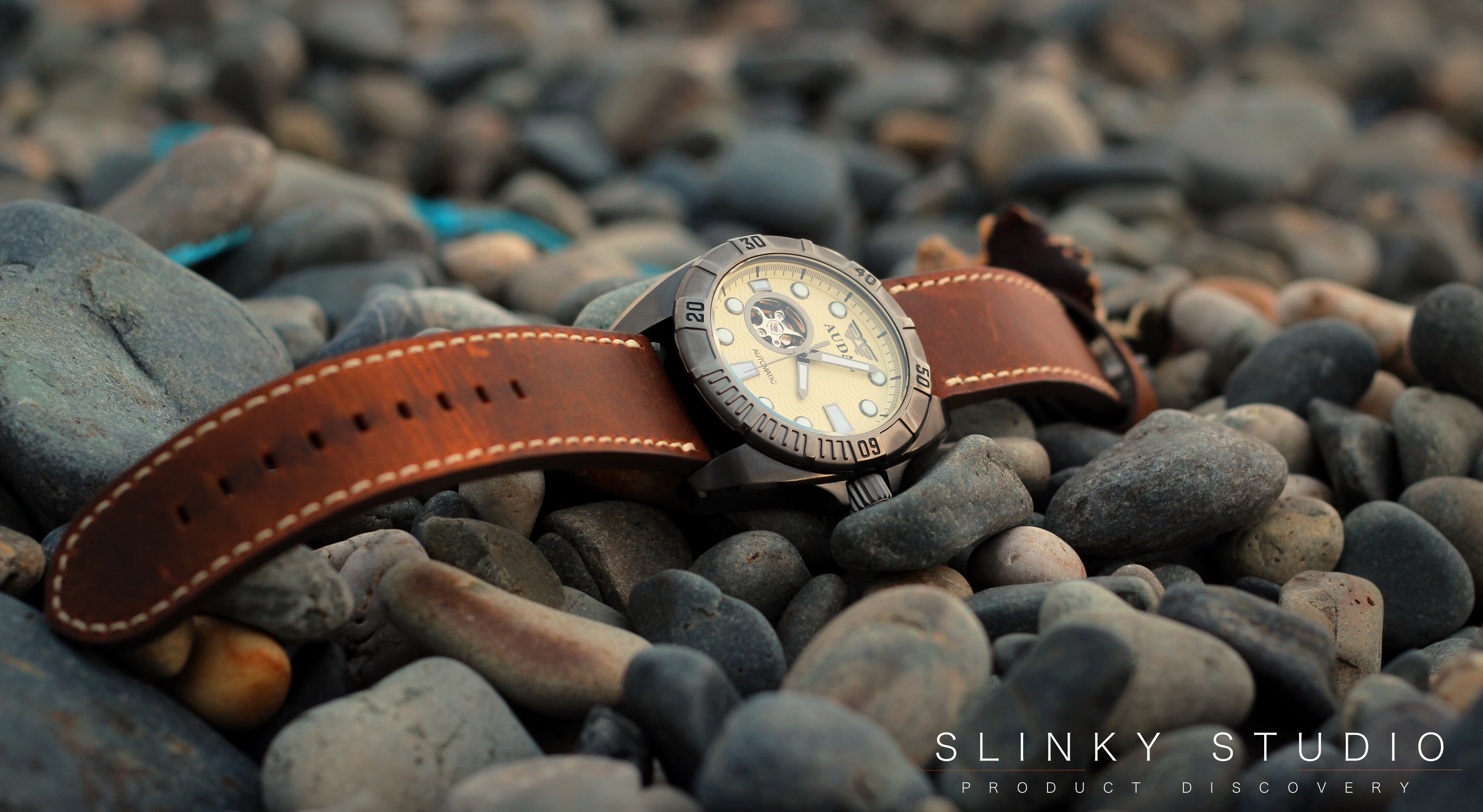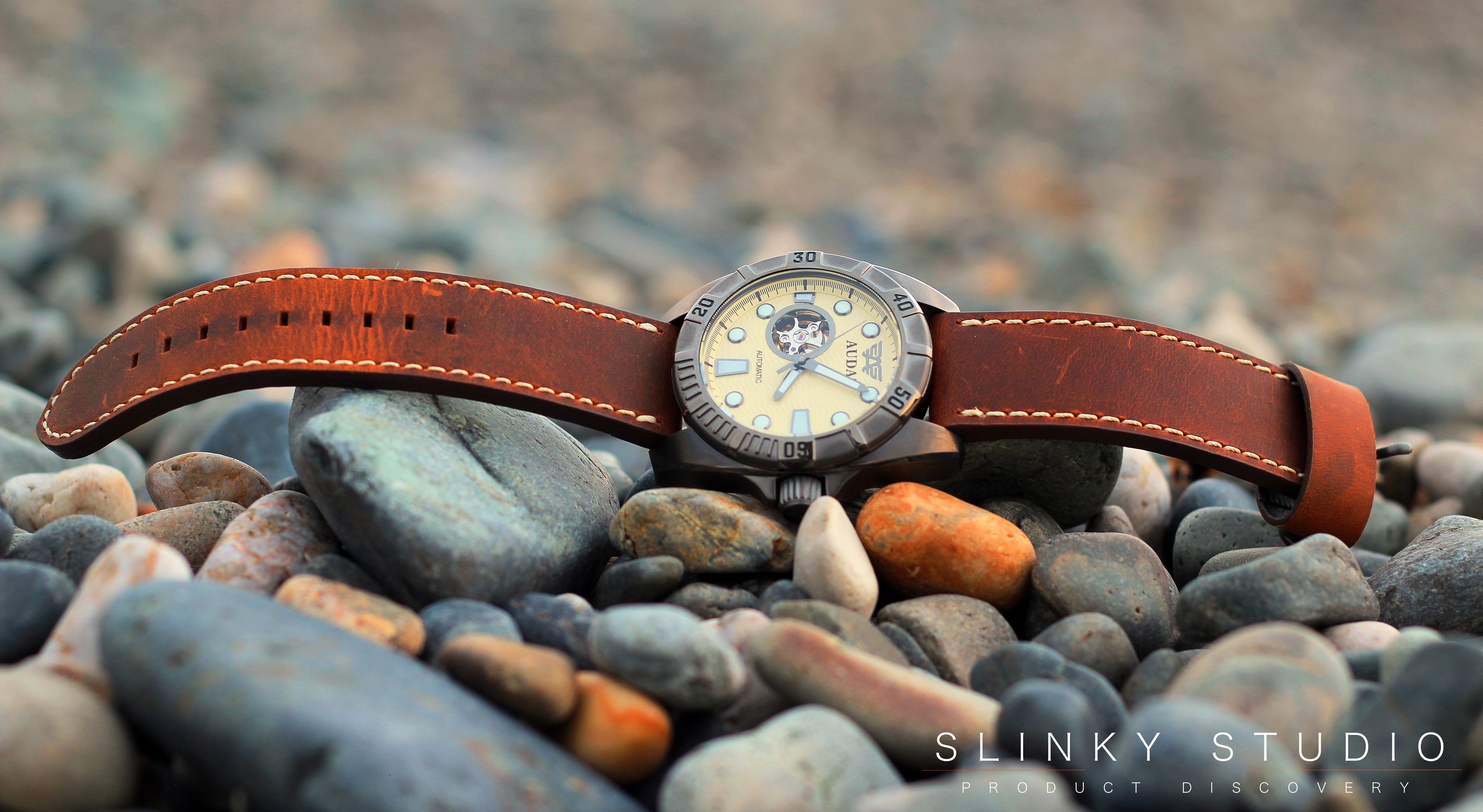 Comfort
Recently we've been reviewing a variety of minimalist watch designs. The Gallant is quite a contrast, being more substantial in the size of face and strap. Of course, this adds more weight (120g total), which our wrists could marginally feel, although this is offset by the watch contouring the rear body against the wrist - it feels comfortable and prevents the straight edges from digging in. It's definitely sensible in terms of being a daily accessory.
Telling the Time
Its automatic movement impressed. We didn't manually need to wind the watch mechanism via the crown in the initial weeks of ownership, because we were moving our wrists from day-to-day activities enough for the watch to generate enough internal energy to run by itself. Interestingly we left it on a bedside for 4 days and it kept track of time perfectly. Of course, the option for winding is a necessity dependent on how frequently it's worn, but nonetheless it's important the movement works as intended.
As you can see, the 44mm watch face on the Audaz Gallant has no written 12 hour time. In fact, it only illustrates minutes in units of 15 around the unidirectional bezel, which take some studying to read with the black font etched into our silvery gunmetal colour. The face itself isn't as initially challenging to read as the Slow Jo 24hr watch, but will take a little getting used to if you're more familiar with 12 written numbers. Besides this Audaz do illustrate each hour of time in dots, lines and the Audaz logo for the 12o'clock position, so if you're familiar with roman numeral time faces, the positioning will come naturally. In the dark these glow green and they're legibly bright. Nevertheless, don't rely on it as your bedside time, as it fades after 15 minutes when pitch-black - although we thought that was fairly impressive! There's also a second hand that eventually ceases to spin when the watch is dormant, thus preserving internal energy.
Verdict
The Audaz Gallant earns praise from the proud visibility of the internal Japanese movement front and back. Furthermore, this automatic Japanese movement keeps track of time reliably for it to be easily worn as a daily timepiece - and there's no winding needed! We particularly appreciate the detail that exudes to create what we feel is a rugged sea image.